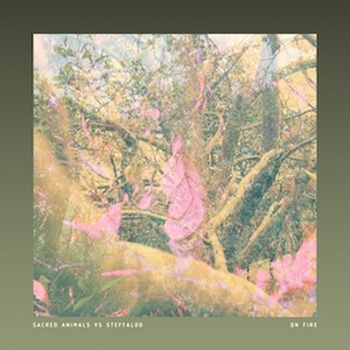 Dublin's Darragh Nolan steps out again under his musical guise, Sacred Animals, to collaborate with US blogger darling, Steffaloo on a version of the title track from her recent EP 'On Fire'.
"On Fire" is a mediation on the joys one can get from purely simple experiences in life, as Steffaloo aka Steph Thompson explains: "I actually wrote it about some of my best friends, this one visit they made from LA to SF one summer that was just so perfect. We spent most of our time on the roof of my building drinking beers, laughing, just enjoying the life & the sunshine. It was just one of those times in life where you feel like everything is exactly how it's supposed to be, like I could die happy, like my heart was just bursting. The words of the song reflected that pure freedom, the wild & carefree spirit of being young & alive."
In this new collaboration based on the song, Steffaloo's achingly bittersweet vocal flourishes fade in and out, over Nolan's ambient layered sonic textures, delivering a breathtaking dose of intoxicating pop. This reworking of "On Fire" will appear on the upcoming Steffaloo remix EP featuring additional remixes by Flashing Red Lights, Personal La Ave, and Novembertraum.
Residing in Los Angeles, Steffaloo has lent her haunting vocals to collaborative projects with Sun Glitters, Blackbird Blackbird, Beat Connection, Chrome Sparks and Teen Daze. Having already graced pretty much every tastemaker blog with her simple love songs & collaborations, Steffaloo unveiled her debut album "Meet Me In Montauk" to critical acclaim before releasing the recent EP "On Fire" from which the original version of this collaboration comes.
Sacred Animals is a native of Wexford in Ireland and released his debut EP 'Welcome Home' on The Delphi Label. A debut album is expected later in 2012. Darragh says that "the music draws on the rich tapestry of styles and sounds that make this such a compelling time to make music. It also draws from those hidden places. It's about everything that makes artists we love, people like Thom Yorke, Justin Vernon (Bon Iver) and Ed Droste (Grizzly Bear) create and then go back and explore. I've written songs for years and have always loved doing it. But when the songs start coming , from somewhere I couldn't always reach, that's something really exciting."