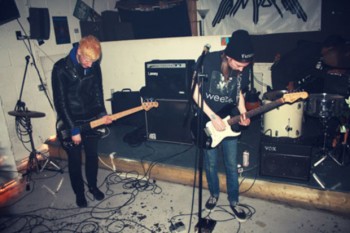 On Monday 1st July A Grave With No Name will return with a new album titled Whirlpool on Stare Records. Recorded over the course of a year at Holy Mountain Studios in Hackney, Whirlpool is an album of contrasting beauty, from the hushed lullaby of 'Bones' and the piano-led curtain call 'Balloons', to the euphoric glee of 'Origami' and the album's opening song 'Aurora', which glides so perfectly with a sense of subtle romanticism.
 The venture from bedroom to recording studio has encouraged a more collaborative approach to constructing songs, with a host of musicians contributing to the album including Linda Jarvis (Echo Lake), Akiko Matsuura (Comanechi) and Alanna McArdle (Ides).
Whirlpool completes a narrative trilogy for A Grave With No Name – a trilogy that began in 2009 with the release of Mountain Debris (No Pain In Pop), and continued with 2011's Lower (Boiled Egg). It's a narrative that confronts the theme of loss, something which could be considered a well trodden path within popular music, but Alex Shields has managed to mine his own distinctive voice, tracing a delicate fissure in the emotional radiography of longing to spellbinding effect. And in Whirlpool he has created his most accomplished and self assured work to date.
A Grave With No Name will play a headline London show at Birthdays on Wednesday 17th July amid a host of UK & European dates with Youth Lagoon.
Monday 8th July – PARIS, Trabendo*
 Wednesday 10th July – AMSTERDAM, Paradiso*
 Monday 15th July – LEEDS, Brudenell Social Club*
Tuesday 16th July – MANCHESTER, Gorilla*
Wednesday 17th July – LONDON, Birthdays+
Thursday 18th July – BIRMINGHAM, Hare & Hounds*
Monday 22nd July – BERGEN, Landmark*
Tuesday 23rd July – OSLO, Parkeatreat*
*with Youth Lagoon
+Headline (with The Proper Ornaments, Old Forest)
Tracklisting for 'Whirlpool'
1. (Higher)
2. Aurora
3. Float
4. Dig Me Out
5. (Lower)
6. Six Months
7. '73
8. Bored Again
9. Origami
10. Bones
11. Streams
12. (Lower 2)
13. Steps
14. Balloon
Release Date – 01/07/2013 (Stare Records)