In terms of respectability the 80s has made something of a comeback. Throughout the nineties and noughties the decade that spawned acts such as Flock of Seagulls, Van Halen and Wham was widely maligned as a vacuous, miserable period where egos and haircuts overshadowed meaningful memorable material. Now it's in renaissance. But as bands like Passion Pit and Empire of the Sun prove there's something to love after all, Curry & Coco seem intent on dragging it back down to the shoulder pad wearing, Dave Lee Roth toting, shit heap image that it's just shed.
The synth line to "Sex Is Fasion" is catchy, but the lyrics are as meaningless and empty as the stereotypical image of the decade that inspired them – the salient point being that the singer does not have sex for emotional reasons, but because it's fashionable. All this is intoned with a puerile, semi-falsetto punk whine that presents the following hypothetical decision:
If Sex Is Fashion is the intellectual and musical equivalent of injecting radioactive waste into your brain (which it is!), and if it came to a choice between actually doing this or listening to the song again, I'd choose the former without hesitation.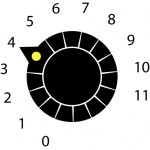 Release Date 10/05/2010