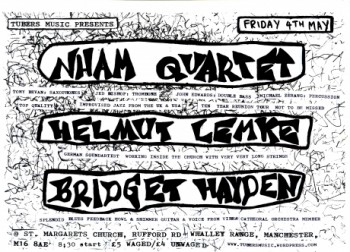 – ST. MARGARET'S CHURCH, MANCHESTER –
I read an article on The Guardian website this week about a venue in London called Cafe Oto which puts on experimental music, free-jazz etc. There was the option to comment after the article and there were lots of disparaging remarks about this kind of place being for 'hipsters' – posing, media types who only profess to like this music so they can build up their cultural capital, advance up the ranks of the taste police, and generally sneer at anyone who doesn't exclusively favour the obscure.
I'm not going to discuss Cafe Oto, but I mention it as the act I have come to see tonight are playing at the London venue as part of their current national tour (in fact, all the members of the NHAM Quartet are regular performers there). So it's sort of relevant to this review, but the comments are stupid because you don't have to be a 'hipster' to like this music, and my experience of seeing experimental music live was summed up exactly by one commentator who said that when they went to Cafe Oto they "simply sit down and listen to the music, exactly like most of the other much cooler-looking people in the room".
A lot of experimental music gets unfairly maligned by cynical types who want to tar all the people who like it as pretentious or elitist. It's definitely a minority pursuit, almost certainly geeky, but there is nothing stopping anyone exploring the experimental if they are interested; in fact it has probably never been more accessible. I suppose this stuff is always going to be divisive but snobbishness hasn't been something I have experienced. It's like anything, if you like it you'll seek it out, if you don't you won't. Leave the posers to their posing and just dive in.
At one point though I definitely would've been intimidated coming to a gig like this, that it was all a bit above me, and subsequently I missed out on a lot of stuff I would've liked to have seen. That's pretty sad, and I am reminded of this fact as the atmosphere in St. Margaret's Church tonight is relaxed and unassuming. You come, you find a pew (literally) and you are entertained (or not).
Tonight begins with Bridget Hayden, who offers a solo rudimentary guitar-effects-vocals set up. Described in the ad for this gig as "blues feedback howl, shimmer guitar and voice", Hayden is in the same vein as Charalambides, Heather Leigh Murray, and Grouper. It's a really simple set up, but it makes for a pretty grand sound. As a member of the classic line-up of Leeds psych-drone collective the Vibracathedral Orchestra, Hayden has a reputation which precedes her. Tonight the unfussy, de-tuned blues refrains and serene vocals are overlaid with huge creaking slabs of effect ridden guitar feedback which swirls and builds and reverberates throughout the church hall. That Hayden is lit-up in this large space by just a desk lamp adds to the atmosphere of simple yet substantial. Hayden's music isn't ever uncomfortable or abrasive, it's actually really soothing and melodies reveal themselves and then drift away within the overall mass of teeming effects driven guitar. For being so seemingly fuss-free and no-frills Hayden offers something really considered and well realised. Definitely someone I will be looking out for in the future.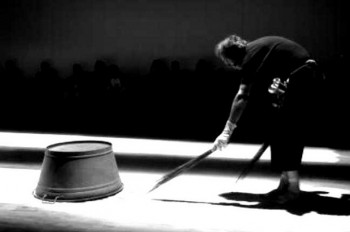 Now for something completely different. Helmut Lemke is a sound-artist who lectures in art at Salford University and also had a label called 'edition el C' which released sound art. Now how successful sound art is as home listening on a CD or LP I am not so sure, tonight though it works really well. Lemke has three long strings which run across the church (they are about 15 metres long). These are initially above the crowd on a stand attached to a belt. As Lemke takes to the stage area he puts on the belt and plays the three long strings. He uses his hands, a violin bow, and sticks and puts wound metal rods and even clothes pegs on them to manipulate the sounds the strings make. At one point a little hand whisk is also used and Lemke frequently shimmies and shakes to make the strings reverberate.
 I read a short article on Lemke's site which said he wants to emphasise the human in music making, being really transparent with how he creates sound. That was a big part of the appeal tonight, as people seem to really respond when weird and wonderful sounds emerge from seemingly simple things like the pegs sliding down the strings. With a big caveat of my naivety for this sort of thing, I think that Lemke's performance is really playful and joyous, and charms the audience. I don't want to undersell it as art but I'm better commenting that I think that anything which creates such a cheery response is absolutely valid, even though it can be wrongly dismissed as trivial. Lemke's performance is genuinely uplifting and is proof of how much fun there can be in the experimental and improvisational.
The main event tonight though is the reunion of the NHAM Quartet who formed twelve years ago when British bass/tenor saxophonist (that's a massive saxophone and a small saxophone for anyone as ignorant as me) Tony Bevan went to Chicago to play with American trombonist Jeb Bishop and percussionist Michael Zerang. John Edwards was added when they came to perform in the UK in 2001, and this current tour is a reformation of that line up.
There is some serious pedigree of free jazz improvisation performing tonight and the four chaps on stage are all individually superstars at this kind of thing, playing solo and with other big names in this scene (I'm far from an expert but check out John Edwards playing in one of my favourites groups 'NEW' and Tony Bevan's collaborations with people like Derek Bailey and Sunny Murray which are released on his own Foghorn label). Having played together before there seems an atmosphere of ease on stage tonight, you know the players will be comfortable with whatever unfolds and will be sympathetic to the sound as a whole, able to push to extremes of noise and apply cool restraint when needed.

The quartet launch and it is an immediate cacophony of sound, almost like testing the waters. An intake of breath by all and the collective sound becomes more settled. It may be my lack of concentration, but I find when I see improvised performance I tend to focus on one player until someone else does something to grab my attention. Tonight Bevan seems to lead the most, and this is understandable given his renown for take-no-prisoners playing and a big, beefy sound.  It almost looks like he is in pain as he forces tones from his saxophones, and after one lengthy run he even seems to have split his lip. Zerang on the other hand can seems a bit inconspicuous at times, especially when playing his kit non-traditionally (with a bow for example). I suppose this is part of his approach and just as important a part of collaborative improvisation as the more up-front elements; anchoring the sound as a whole rather than leading it.
In fact my favourite element tonight is when John Edwards and Michael Zerang showcase the rhythm as lead. Edwards can get properly out-there on his double bass (fingers flying up and down the neck, pulling strings until they look like they are about to snap, smacking the body like a drum) and this space allows him to come to the fore, Zerang again providing a gently flourished foundation.
I would've also liked to see Jeb Bishop, who was introduced as playing trombone and electronics, to have utilised the effects more. I've seen electronics incorporated into improvised performances before and really enjoyed this counter to traditional instruments, so it would've been good to have heard more of that element included here. Bishop doesn't leave anything lacking when on the trombone however, shifting from snarling wails to contributions which were perhaps the most melodic elements heard tonight.
The set finishes with something which makes the hairs on the back of my neck stand up, I can't explain it but as the noisy dissonance settles down and everything becomes a bit calmer the band as a whole seemed to sound like they are playing backwards. Bevan's sax notes especially seem to fade in before the sound is sharply clipped away, and Zerang's percussion seemed to swoosh like breath being inhaled, the addition of some chimes adding to the sound manifesting in a weird way. It was really affecting after some of the more extreme noise that the quartet had produced and a nice way to round of the set.
The performance lasts about 45 minutes and it flies by, probably because the sound is in a constant state of flux and restless motion – everything is always pushing forward and it is this sense of the unexpected which keeps you engaged. The evening as a whole has been a bit like that, constantly changing and moving on. Three very individual performers that perhaps wouldn't ordinarily share a bill, brought together in a way that really worked well.
Tonight I found another reason to ignore the detractors. So nice one to Tubers Music for flying the flag for the experimental in Manchester and making sure that locals who seek weird music are able to find it right on their doorstep.