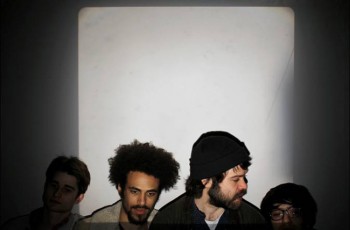 Hailing from London, but drawing equally from the power pop sounds of West Coast America to the rainy streets of Glasgow, Fanzine are here to inspire, to incite and to invigorate in the most laid back, understated yet radiant way they can.
There's a knack to making this positively inviting brand of modern, heart filled, outlandishly catchy power pop that Fanzine create so effortlessly. It's all to do with fusing an irresistible melody and a soft, jaunty vocal with the perfect dose of fuzz and reverb, and then wrapping the whole thing up in perfectly executed layers of harmonic prowess. Fanzine have been perfecting this heady mixture and are now set to demonstrate their melodic mastery as they release a new single through Best Fit Recordings.
Fanzine debuted with the Low EP in true DIY style last year, as a self released record with an accompanying handmade fanzine. On the back of this, acclaimed U.S label Fat Possum signed the band to release single and veritable live favourite 'Roman Holiday' alongside accompanying track, 'My Stupid Brain'. Since then, the four piece have made their way around the UK with good friends and musical allies Yuck, as well as the likes of The Pains of Being Pure at Heart and Cults. And that's not to mention their innumerable acclaimed appearances at gigs around the capital which have garnered the outstanding live reputation of which Fanzine have come to be proud owners.
Emotion drenched lyrics sitting alongside killer guitar led hooks is what this band do best. They aim to capture a special moment, a youthful energy, a lustrous vibrancy and transport their listeners to a musical time initiated by the likes of Big Star, Weezer and Teenage Fanclub.
Fanzine take cues from the movie 'Splash' in their new video for single 'L.A.', as an ocean-dweller takes a trip onto dry land and straight onto the sun-bleached streets of the track's namesake.
Tour dates:
4th May – Green Door Store, Brighton (supporting Here We Go Magic)
5th May – Live At Leeds, Leeds
6th May – Camden Crawl, London
9th May – Single launch at The Waiting Room, London
12th May – The Great Escape, Brighton
19th May – 60 Million Postcards, Bournemouth
2nd Jun – Long Division Festival, Wakefield
Fanzine released "L.A." through Best Fit Recordings on April 30.
www.bestfitrecordings.com
www.facebook.com/fanzinetheband
www.twitter.com/fanzinetheband