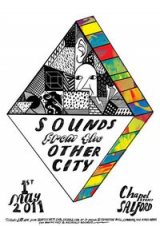 – CHAPEL STREET, SALFORD –
Silent Radio believes just one person covering SFTOC is quite simply just not enough, so this year we send two of our finest to take in Salford's Chapel Street all day non-stop music event.
Review #2:
Deaf To Van Gogh's ear proved an attractive first foray into Sounds From The Other City's ridiculously dense line-up. Except they're not actually Deaf To Van Gogh's Ear anymore, they're something else, something assumedly quite secret, as they don't actually tell us. After sound-checking they depart promising they are off to change clothes. Mutterings of 'get a grip you bunch of girls, yeah, especially you, the one that's actually a girl' were wholly unnecessary – and I feel bad about them now – as they return dressed quite spectacularly as paddy field workers (?) complete with straw hats and face paint. Their songs are as sharp as their sartorial nous – retaining their energetic math rock aesthetic, with snappy melodies cutting through skewered guitars. The change, it seems, is in a decidedly more experimental and ambitious songs, pulled off with remarkable ease considering they confess they've only been rehearsing them a couple of weeks.
A sojourn to The Old Pint Pot for The Louche FC proved somewhat disappointing. It was all very nice though not exactly broaching fresh ground – fairly standard shoegaze lacking in enough idiosyncrasy to engage. Lackadaisical rhythms fell short of nonchalant, coming across as just not bothered. Reverberating, charismatic vocals were nicely atmospheric – though not enough to detract from a bit of sunshine outside…
Willy Mason played an early evening set at Hey Manchester's! Peel Hall curated stage – set slightly apart from the bulk of venues and was unquestionably the finest venue around. Tiered seating and a grand interior sat deliciously at odds with Willy Mason's pared down Americana and gravely, East-Coast accent. A highlight of the day, despite the mortal sin of not playing Oxygen – for heaven's sake, Willy, give the people what they want. The set was lively yet subdued, with charmingly rendered folk ditties and just the one mid-performance coughing fit.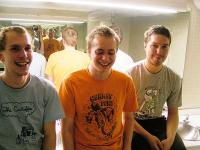 Next came former Hefner frontman Darren Hayman, doing what, I am not exactly sure. Butlins cabaret for the chattering classes? Knowingly shit self-parody? Darren Hayman was followed by The Wave Pictures pulling off what Hayman used to. Anecdotal numbers replete with genuinely witty self-deprecation set to buoyant, jaunty melodies and unashamedly English-accented vocals. With a few from new album Beer In Breakers – The Wave Pictures don't particularly evolve, but then, they don't need to. 
David Thomas Broughton played a criminally under-attended set at Peel Hall – beautifully saturating the room with haunting loops and strained, aching vocals. Always something of a marvel – Broughton's complete immersion in his set is as strangely edifying as his layered, melancholic music.
A swift jaunt to St. Phillips Church for The Twilight Sad introduced a little much-needed zeal to the day. Ludicrously soaring, feverish and moving – The Twilight Sad were a fine choice for the airy church. Frontman James Graham's usually fervid vocals seemed to be lacking in genuine anguish, and so fell a little less-than-impassioned. For god's sake, somebody break the man's heart already. A swift twist in tone came next, courtesy of Those Dancing Days. Those Dancing Day's are pretty much Girls Aloud for people who think they're too cool to like Girls Aloud, and frankly, gimme Girls Aloud. They were, however, very aesthetically pleasing, and what they lacked in sub-The Organ indie pop, they made up for in nice dresses and prettiness.
Winding the evening down spinning the likes of Manic Street Preachers and Weezer – the always enjoyable Underachievers DJs ended the event on a fun note. Until next year…