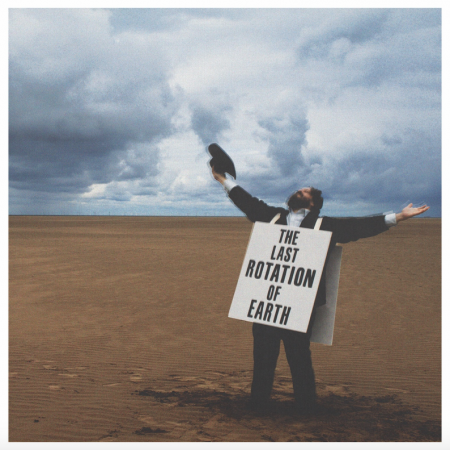 There is a long-held theory that immense suffering can act as a catalyst for great art. Brian Christinzio has certainly been given fuel to inspire his music. Since attempting to escape his drug and alcohol addictions in Philadelphia by relocating to Manchester, his trilogy of album releases as BC Camplight for Bella Union had been accompanied by, respectively, deportation, the death of his father and an accompanying mental breakdown, and the Covid pandemic. Work on his new album, 'The Last Rotation of Earth' was interrupted by the collapse of the nine-year relationship with his fiancé, causing him to scrap 95% of the album and start afresh. 
What emerges is an extraordinary record. It retains many of the characteristics that have defined his earlier releases but refined and pushed to extremes. A hyperactive blend of lush melodics, dizzying progressions and sharp U-turns, a voice with huge range, and a level of caustic and surreal humour rarely found in pop lyrics, is all on display.  
Listening to 'The Last Rotation of Earth', it is easy at various times to identify elements of Brill Building pop, the genius of Brian Wilson, the conversational piano ballads and humour of Randy Newman, the skittishness of Harry Nilsson and 10CC at their most disruptive. The album starts with the title track and its addictive piano melody. Its opening lines encapsulate the disorder "you missed a hell of a party, I said to the kitchen floor", he proceeds to comment on the beautiful morning to the Tesco guy as he contemplates his final day. The music flips into noisy interludes and vocal yelps, throws in a gospel choir to create a tour-de-force appropriate for the occasion.
From its opening bars of scraping cello, 'The Movie' verbalises stage direction so in "scene 1 – we see a man in his forties, he's sat at the kitchen table dressed in a Kermit the frog onesie". Arguments follow about the pronunciation of Louis Theroux's name while in 'scene 2 – we see a mirror and a reflection of the man. He's repeatedly singing himself the last line of 'Happy Birthday'." The song merges elements of classic baroque pop and over the top film soundtrack with syrupy strings.
As a transplanted American, he delights in the sort of references to local places that rarely appear in popular song. His previous album 'Shortly Before Takeoff' contained references to the Arndale Centre, Oldham and Crewe while 'The Last Rotation of Earth' includes the ironically titled 'It Never Rains in Manchester' which sees him stating "that's enough similes. Who am I? Jonathan Steinbeck?" and staging a reception in the curry mile during a song that takes in wandering strings, discord and spoken interludes. 
'Kicking Up A Fuss' was written while he was living in a dirty cheap Liverpool hotel haunted by all its guests and looking like it had not been redecorated since 1986. The narrator wonders whether he has the strength to fight back but recognises "no-one save me but me… I don't want to be somebody else but I don't want to be myself". It is fuelled by an infectious synth line before referencing forming a doowop band followed by appropriate vocal harmonising. 
The Liverpool Philharmonic add massive heft to 'She's Gone Cold', written two days after the split. It is a breakup song and demented power ballad that utilises quotes from the breakup and is surely the only pop song to reference daytime TV staple 'Homes under the Hammer'.  There are surreal touches like Christinzio's dog packing up his things and hoping he lands on his feet. The massive percussion hammers home the impact.
'Fear: Life in a Dozen Years' catapults between humungous riffs, gentle balladry and wafting saxophone. For most of its journey 'Going Out on a Low Note' is a restrained piano ballad which sees him taking and discarding a call from the lottery with good news. His fragile mental health is summarised by the lines "my brain says 'stay the course' / pretty rich when you consider the source / now I'm not positive but I'm pretty sure/ you shouldn't cry when you listen to Faith No More" and the song temporarily ascends to a peak of Frankie Valli level high pitched vocalising intensity before subsiding.
The duet 'I'm Ugly' is monumental in its level of self-loathing with Christinzio being told "you're fucking hideous". The album ends with 'The Mourning', a slow almost wordless elegy taking the album out on a low note and refusing to offer a false happy ending concluding with a sampled voice saying, "at stake now is every man's fate".
'The Last Rotation of Earth' is pleasurably exhausting in its imaginative montage of lyrical threads and the way a winning melody will be discarded in passing rather than dragged out for a lengthy tune. It is a supreme culmination of Christinzio's career so far. It must be a shoo-in for a pre-eminent spot in most critics' albums of 2023 list. Hopefully, it will be matched by similar commercial success. Contrary to the theory, such is his creativity and self-awareness it is inconceivable that great riches and a contented personal life would ever lead BC Camplight into the bland territory of supine piano ballads.
BC Camplight: The Last Rotation of Earth – Out 12th May 2023 (Bella Union)