'Bloodbuzz Ohio' is the first single to be taken from The National's eagerly anticipated fifth album 'High Violet'. The track begins with the stuttering drum patterns of Bryan Devendorf amongst a haze of atmospheric orchestration, of which fans of the bands previous album 'Boxer' will be familiar with. Before long the key ingredient to The National's sound enters the fray in the form of lead singer Matt Berningers baritone vocals. As usual this is delivered in his own distinctive deadpan fashion.
The choice of song title is notable particularly as The National's origins began in Ohio before they eventually relocated to New York. Berningers exploration of his connection to his home state is curious 'I was carried to Ohio in a swarm of bees. I never married but Ohio don't remember me. I still owe money to the money to the money I owe. I never thought about love when I thought about home.' His lyrics once again portray hallmark themes of lust, love and longing tinged with a healthy dose of self deprecation.
Stadium filled tours with alternate rock gods such as REM and Arcade Fire is bound to have had an effect on the band. 'High Violet' could potentially elevate them into the big leagues. 'Bloodbuzz Ohio' sounds like Joy Division trying to write 'Born to Run' and fans of previous crowd pleasers 'Mr November' and 'Fake Empire' will not be disappointed. However, unlike the Boss, The National's anthems are unlikely to worry the top of the charts. They are also unlikely to incite mass sing-alongs on the summer festival circuit either.
The band seems to have an impeccable knack for creating anthems for the thinking man and 'Bloodbuzz Ohio' is a perfect example. Berningers vocals keep everything in check perfectly and the band retains their distance from the crowd. This perhaps goes to explain The National's slow but steady growth in popularity as well as their long term appeal.
'Bloodbuzz Ohio' is in many ways a quintessential version of The National. It has all the epic wall of sound arrangements from 'Boxer' but dares to go for the jugular once again, just like their breakthrough 'Alligator' did. It gets its hooks into you gently and then grows and grows on you like poison ivy until your mind is twinned with Berningers dark psyche. It is a promising highlight of what is to come on 'High Violet'.
B-side 'Sin Eaters' is a more sedate and reflective affair that recalls more the earlier influence of 'Daughters of the Soho Riots' and 'City Middle' from 'Alligator.' It is the perfect foil to the epic energy of 'Bloodbuzz Ohio'.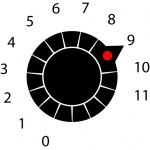 Release Date 03/05/2010