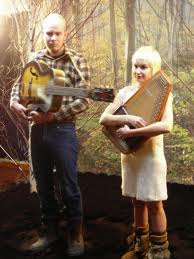 – The Deaf Institute, Manchester –
Timber Timbre (that's one ending in an 'er' followed by one ending in an 're' – how Pan-Atlantic of them) are spooky. And spooky is ostensibly really rather cool these days.
Unlike say, Zola Jesus, whose Kate-Bush-meets-Lady-Haversham schtick one suspects extends beyond her on stage repertoire,  Timber Timbre seem all too aware of the currency a spot of spookiness lends their appeal. The stage is decked out not unlike the build-up to the Alton Towers Haunted House ride, with low-wattage light bulbs in wrought iron candle holders set askew around the band. Askew is spooky  -symmetry  is anything but. These are the basic rules of spookiness. Off-key violins permeate the bulk of their songs – surely the spookiest of all the instruments – and an awful lot of their stuff sounds like that 'bow bow boooww' bit from the Twin Peaks soundtrack. Truly, this is spooky stuff indeed.
Nosferatu,  a (spooky) 1922 German expressionist vampire film, is projected in the background and there is perhaps something of a Dark Side Of The Moon/Wizard of Oz kind of deal going on here – as the lyrics occasionally married to what was happening on-screen, and songs seemed to reach their crescendo at appropriate moments. The set, however, ended some fifteen minutes or so short of the film, and so perhaps this is not the case. It would be nice if it was, though.
Strip away the spooky artifice and Timber Timbre do edifying blues laced dream pop – sort of a swampy Cocteau Twins or This Mortal Coil. Delicate keyboards sit neatly on top of brooding, funk-laced melodies, nicely livened by tinkering, minimalist percussion. Front-man Taylor Kirk's vocals are deliciously multi-faceted, infusing the songs with a real sense of character and wholeness. Weighing heavily on the dreamy 'Creep On Creepin' On' – 'Bad Ritual' is lingering and enigmatic, 'Black Water' is melodically maudlin and the title track is comparatively sparse and effective. Allusions to darkness come across a little Munsters-lite, rather than the sinister eeriness they apparently aspire towards. It is a contrivance they don't need, unless of course they up the ante, and do something actually shocking.