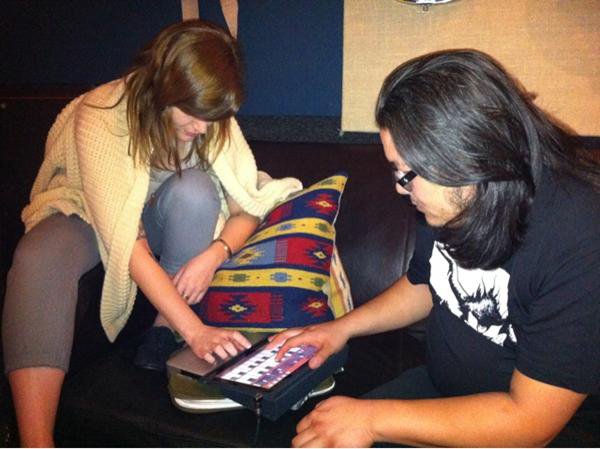 – Club Academy, Manchester –
It's easy to tell with one quick sweep of the room whether you're at a major gig in Manchester. Major as in must-see, not large, as the city's musical elite are a fussy, discerning lot. Tonight's gig, however, has earned their full approval and the regular faces are out in full-force, many of them donning fifties-style hairdos, knotted headbands and ridiculously bright summer dresses in a nod to the hotly tipped Best Coast.
Support act Spectrals are a refreshingly unusual bunch, looking as though they are about to burst into either some grinding, writhing rock or run-of-the-mill indie, but instead delivering a more vintage, sepia-toned sound.
Tracks such as 'Get a Grip' and 'Peppermint' are enough to drag them from support band oblivion into headliner status as they hold their own, and the attention of the room, particularly well in the Academy basement.
On to Best Coast – it seems that what people are expecting, after basking in the sunny sounds of their 2010 debut album Crazy For You, is plain, honest California-style surfy optimism, served up with a side of uncomplicated vocals, agreeable basslines and strolling drumbeats.
This is a large part of Best Coast's formula, granted, but, maybe unexpectedly for some, it is not the limit of the band's abilities.
The almost grunge-y angst of the lyrics plays a more prominent role onstage than on record, as lead singer and guitarist Bethany Cosentino's moans of "I I I I I want you sooo much…" and "I hate sleeping alone…" soar through the air, grating away at the eardrums in a much more suggestive and unsettling way in a live capacity.
Sure enough, frontwoman Cosentino has more than enough adoring female and male fans – including one who likes shouting "you're incredibly attractive" every now and then.
However, despite crafting a certain kind of sunny, kitsch look in the past, she feels confident enough to turn up in a plain t-shirt tonight, armed with 'I don't give a damn' aura and a love of a good old swear.
With these things in mind, Cosentino bears a lot of similarities to her fellow Californian female lead Annie Hardy of Giant Drag. And you can't get much cooler than that.
Add to this a few promising new tracks, a sound hitch or two, an early stage invasion and a temporary tiff which sees bass player Bobb Bruno jokingly relinquish his guitar and walk off stage, and the gig has sealed its fate as one of the year's best so far.
Those who catch the band live will be presented with what their debut album says on the tin, but they will also discover the darker, sarcastic and angst-ridden undertow of Best Coast's sunny Californian waves. They really are an act to see, and be seen watching, this year.