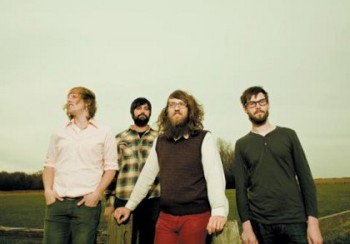 – THE NIGHT & DAY CAFÉ, MANCHESTER –
I've set out early to make sure I catch Tall Ships who are tonight's support act. Having supported Maps & Atlases on their previous UK tour last October, the boys have been invited back, which I couldn't be happier about. Tall Ships are one of the most exciting live bands in the UK right now. Every time I've seen them in the past, they've blown me away; and tonight is no exception. They are a three piece math-rock outfit originally from Falmouth but now based in Brighton. They create music with complex and layered rhythms, with well thought out lyrics and looped harmonies.
They begin the set with new single 'T=0' (released on Monday via Big Scary Monsters/Blood&Biscuits), which is loud, energetic and a great opening track to get the crowd's full attention. They follow with 'Plate Tectonics' and 'Chemistry', before giving fans more to look forward to with a [untitled] new track, which lead singer Ric layers vocal harmonies before ending with a fuzzy outro which leads straight into 'Vessels'. The song starts off slowly with delicate vocals, and gradually builds up into an instrumental chorus of pounding drum beats and looped guitar riffs, ending with mass sing along. The band cut out and the crowd continues with "the vessel, that carried you and me, now sits at the bottom, the bottom of the sea…". It's surprising to see the crowd so involved at this point; it's as if they've been waiting for the moment to happen for the duration of the set.
Now Tall Ships have warmed the cockles of our hearts nicely, it's time for Chicago based outfit Maps & Atlases to take to the stage. Having just released a wonderfully uplifting set of indie pop songs this week in the form of their second full length 'Beware & Be Grateful', we're all hoping for our hearts to warmed even more with their intricate blend of math-rock, indie, pop and folk.
Kicking off with the breezy pop tones of latest single 'Winter', the quartet rip through an array of tracks from their previous releases, from the twiddle-guitar grooves from EP 'You Me and The Mountain' to the folk pop harmonies of debut album 'Perch Patchwork', the way these guys flit between genres is effortless and shows just how prolific they are as songwriters and as musicians. The atmosphere down the front this evening is delight and full of smiling faces. The crowd is also trying to help out front man Dave with his husky, soulful vocals with lots of dancing and clapping to the infectious grooves and glorious pop melodies.
After an awesome encore and jamming out early EP highlight 'Daily News', everyone in the crowd is beaming, as we've just experienced two bands of top of their game; one band destined for big things and another band that, if they keep on the way their going, should be going on to even bigger and better things in the very near future.