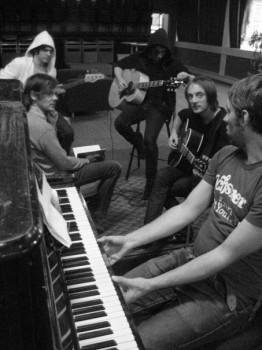 – MOHO LIVE, MANCHESTER –
Four young lads, aged around ten or eleven, are having a game of football in a Levenshulme street, when one of them unleashes a volley that even the saintly Carlos Tevez would be proud of. It smashes into the corner of the goal and into the right wing mirror of an innocently parked Nissan some twenty yards away, while he wheels away arms aloft and shouts, amazingly, "Iron Maiden!"
If, however, he'd have scored an easy tap-in against a fat kid, he might have sighed "Sparrow And The Workshop" to himself. A pyrrhic victory, but 1-0 all the same.
The Glasgow-based trio are lead by Jill O'Sullivan, originally from Chicago, who has a voice which could send an insomniac into the land of nod in a trice so dulcet and wide-ranging are her tones. Alas, she's 'complemented' by Gregor Donaldson, who's off-kilter backing vocals could wake Snow White, Rip Van Winkle and ultimately, the dead.
His hulking drums dominate proceedings, too, masking the understated pleasures of 'Into The Wild' and new single, 'I Will Break You'. It's clear, though, that they're a better band than the unsympathetic treatment at the sound desk would suggest.
In much the same way that The Rolling Stones still pretend that they're a creative force, when in reality nobody gives two hoots about anything after 'Exile On Main St', similar accusations can be levelled at Idlewild.
Their first three albums are almost without peer, with arguably only Biffy Clyro coming anywhere close in terms of vitality and consistency, while 2002′s 'The Remote Part' is a genuine landmark for British rock music. However, their output since has been lacklustre by comparison, and although last year's 'Post Electric Blues' saw a slight return to form, that spark is still missing for the most part.
Frontman, Roddy Woomble, stands at 45° to the mic, and despite the understandably lukewarm reception for their more recent material, the band are clearly still very much into it, Rod Jones thrusting himself into every riff, and birthday boy, Colin Newton is at his galloping best.
The classic "a flight of stairs falling down a flight of stairs" description of their early career may have changed into "an Axminster brushing gently against a Persian rug", but there's no denying that 'When I Argue I See Shapes', 'Roseability' and the closing 'In Remote Part'/'Scottish Fiction' sound as anthemic as when they first emerged.
Of course, bands need to evolve, and you can't expect a group of thirty-somethings to lob out thrash-pop nuggets willy-nilly, but nights like this do make you hanker for what used to be.