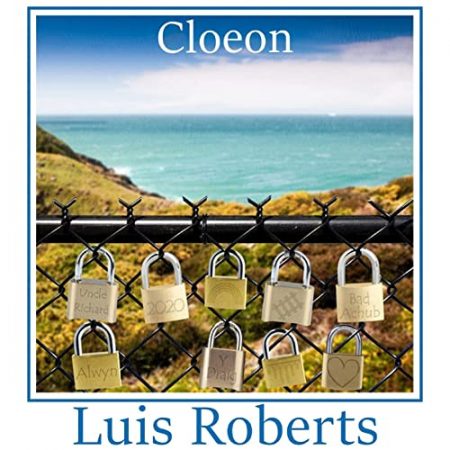 Luis Roberts is a Welsh wonder! A songwriter who sings in the Welsh language, yet his songs have a universal appeal, steeped in a gentle folk psych pop forest of lush melodies, delicate guitars and pianos. His debut album 'Cloeon' has hints of Talk Talk's expansive soundings, mixed with Elbow's subtle melodic ways, and is one of the most gorgeous albums you'll hear this year. We caught up with Luis to find out more..
Your album is sung in Welsh, and even though I don't speak Welsh myself, you can feel the emotion in the songs. How important was it for you to release it in the Welsh language and why was it so important?
The Welsh language is a big part of my life, it's in my family and it gives me strength and comfort. As a child, I used to hear the Welsh language on the radio and TV and I felt this great comfort that lifted my spirit. It's mainly about the emotion of the music that's important, but with the Welsh language above it makes it attract the Welsh speakers even better.
I first discovered Welsh language albums listening to Gorky's Zygotic Mynci, and I released that even though you can't understand the words if you're a non-Welsh speaker, the music still carries the album along, plus you're more inspired as a listener to try and get a translation so you can understand what the songs are about. Since then, I'm a huge fan of Welsh language records. Do you worry that the lyrics may get lost on a non-Welsh audience,  or do you think these days people are more open to songs in a different language?
When I play gigs in England, I do share one of my Welsh language songs with the audience. It's a way to introduce them to something they've never heard before. I've played Welsh language songs in England… and even in Greece! And I do get an applause out of it! It's just like listening to music in Italian or Greek when you're on holiday.
Growing up in Wales who were your inspirations either musically or non musically?
My music artists that inspired me to write songs in Welsh include Dafydd Iwan, Emyr Huws Jones and Dewi Morris. The artists and bands that have inspired me to compose music include Pink Floyd, Nirvana, Coldplay, Radiohead and Muse.
Making a living as a full time musician seems to get more difficult for bands each year, how do you manage to juggle day jobs and your role as a musician?
I have two jobs: I mostly perform as a solo artist with a guitar and piano. I also work as a teaching assistant at a primary school and do one to one music and guitar lessons.
How has the last year had an impact on your songwriting and general outlook on life?
The previous year was a time for me to express the thoughts that I've kept for so long, especially during the coronavirus pandemic. That's why I wrote 'Cist Atgofion Gyda Chlo', it's about life in lockdown. There's an English version of that song (Padlocked Chest of Memories) available on Spotify, YouTube, Apple Music and other platforms. The loss of my friend and uncle happened before covid and I had the chance to write the songs 'Arwr Yr Ynys' and 'Gwenu'n Dawel'. The rest of the songs came in dreams.
When you're writing, do you just record on your phone or do you go old school and use a 4 track, and then how does it develop?
It's easy to record with a phone everytime I come up with a fragment and then I would write on paper to plan which melody or chord progression will be a verse or chorus.
Do you have any plans to play Manchester, or tour this year and if so, how have rehearsals been going, and what can people expect?
I mainly tour on Anglesey, but I love to tour the whole of the UK.
What's the best and worst elements of touring?
The worst part of touring is that it's tiring, you get delays, places can be too far to travel, and you've got other responsibilities at home that just make you miss the opportunity to pursue your dreams. The best part of it is that you visit new environments, and you get more people to enjoy your talent and follow you on Instagram, Facebook and Spotify and subscribe you on YouTube.
Being on the road, you spend more time than usual with your bandmates or crew. What have you discovered about each other that you might not have realised before you started touring?
I use to do a few little tours with my band in school and that's nothing compared to travelling 100 miles on the road and doing extra rehearsals ready for a line up, which may be tiring and stressful but it would be worth it.
What's next for you, more songwriting, any other future projects in the pipeline?
The next step for me is hopefully to do some music videos, more photo shoots, playing on television shows, doing interviews on radio shows, and also to make a follow-up album to 'Cloeon' in Welsh.
Luis Roberts: Cloeon -Out Now