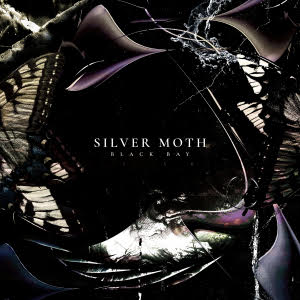 Let's face it, for all the good social media can do, it can also be an absolute cesspit of garbage, but thankfully in the case of Silver Moth the power of twitter was actually put to good use as these songs developed following twitter exchanges between multi-instrumentalist Elisabeth Elektra and Abrasive Trees songwriter/guitarist Matthew Rochford regarding the Isle Of Lewis. 
This lead to further involvement from musicians Stuart Braithwaite from Mogwai, Evi Vine, Steven Hill, Ash Babb and Ben Roberts who all convened at the beautiful Black Bay studios on the Isle Of Lewis in the Outer Hebrides, where the songs were written and recorded in just four days. In the expansive sounds, and delicate melodies it's easy to imagine listening to these tunes against the remote coastline of Lewis, but as I'm in Manchester, listening to the album as the sights of the ever expanding skyscrapers come into view will have to suffice for now, the effect on the eardrums being just as satisfying. 
Opening with the sweeping guitar notes and strings of 'Henry', melodies glide effortlessly along accompanied by delicate piano notes and vocals from Evi Vine, before the guitar pedals are stomped on and amazing melodic noise kicks in. Swiftly following is 'The Eternal', a gentler, more brighter tune, like a clear blue sky over the coastline after the storm, managing to be beautifully atmospheric, yet the gloriously noisy elements are never too far away either. It is a simply stunning tune destined to be used as the dramatic soundscape in a film or TV show somewhere. 'Mother Tongue' has elements of Laurel Canyon meets Pink Floyd in its dreamlike qualities, its dynamics soaring ever upwards with its droning cello and guitar sounds underpinning piano and guitar riffs with vocal melodies drifting across the sea of atmospheric melodic noise.
The hypnotically beautiful 'Gaelic Psalms' is a psychedelic twist on a traditional poem by the late Scottish writer Gerard Rochford with cello drones, sound clips of the coastline and Gerard's son Matthew Rochford reciting the poem. 'Hello Doom' is a fifteen minute epic adventure, revelling in the quiet, a bit louder, then all hell breaking loose kind of dynamics that guitarist Stuart Braithwaite does so well, before settling down again into a quiet storm. 'Sedna' brings proceedings to a close with its gentle intertwining guitars before Vine's ethereal vocals come in, and the song gently forms a rolling wave of guitars, cellos and drums. There may only be six songs on the album, but as they're mostly quite lengthy epics, there's plenty of music to keep your ears entertained. 
All musicians involved agreed it was quite a leap of faith to meet on the car park at Ullapool to board the ferry for Lewis, before venturing off to the studio without anything being written beforehand, relying on an intensive collaborative process, and the hope they'd be able to create something worthwhile. More than merely the sum of its band members, Black Bay is imbued with a sense of place, an aural picture of a moment in time and the remote location of the Isle Of Lewis. 
Recorded in a special place, Black Bay is a truly special album. A brilliantly atmospheric yet melodic work from some of the finest sonic innovators around. 
Silver Moth: Black Bay – Out 21st April 2023 (Bella Union)