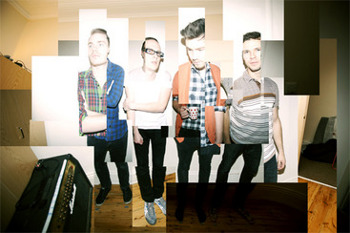 The propulsive singles "Family" and "Animals" have already stormed the radio airwaves and hooked listeners, and now, Irish quartet The Cast of Cheers are getting ready to unleash their first proper album, released June 18th on School Boy Error/ Co-operative Music.
Of course, it would be a bit of a misnomer to call this their debut – that would be "Chariot", the album the Irish quartet recorded themselves in 3 days, which they subsequently put up on BandCamp for free. It received over 150,000 downloads and netted them a nomination at the Choice Music Awards, sending their star into rapid ascendance – their next single, the blistering "Family" saw the band championed by the influential likes of Zane Lowe, Fearne Cotton, Huw Stephens and more, while their follow-up single "Animals", due out this month, has neatly repeated the same trick.
Family" (produced by Luke Smith, ex of Clor) surely does not disappoint. As their rousing live shows have indicated, this band know their way around an aggressively infectious hook and riproaring 3 minute song, with tracks like the pummelling "Human Elevator" and the driving "Goose" – imagine an amped up Battles jamming with vintage Gang of Four and you'll be somewhere close – demonstrating an impressive ability to write sharp, concise, math-rock tracks that pack a punch even as they are moving your hips.
Which is not to say, however, that the band only have one note. The mid-tempo "Go Getter" is a lovely, warm-hearted mini-anthem in waiting, with lead singer Conor singing "you're out of the thorns, you're out of it now", while "Marso Sava" is a tender love song recalling Simon and Garfunkel as much as it does a jittery XTC. Closer "They Call It a Race", meanwhile sees the band in more wistful mode, with Conor asking "is anybody else losing heart tonight?" over a gorgeous, euphoric rush of rattling guitars and sweetly cooed backing vocals. It is a fine, reflective end to a fine record, and a powerful introduction to the world of The Cast of Cheers.
LISTEN TO 'ANIMALS' HERE:

TRACKLISTING
1.     Family
2.     Posé Mit
3.     Human Elevator
4.     Animals
5.     Palace and Run
6.     Goose
7.     Go Getter
8.     Marso Sava
9.     Trucks At Night
10.  They Call It A Race
UPCOMING LIVE DATES with Blood Red Shoes
April
27 – Concorde 2, Brighton
28 – Wedgewood Rooms, Portsmouth
29 – O2 Academy, Oxford
May
1 – Trinity, Bristol
2 – Waterfront, Norwich
3 – Heaven, London
4 – HMV Institute, Birmingham
5 – Academy, Manchester
7 – Zanzibar, Liverpool
8 – The Cluny, Newcastle
9 – Tunnels, Aberdeen
10 – King Tuts, Glasgow
12 – Cockpit, Leeds
13 – Rescue Rooms, Nottingham