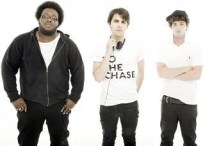 Hackney's To The Chase are billed as genre blending indie/soul pioneers – a bold boast which they don't quiet deliver on – but what they do offer is perfectly catchy and wholly inoffensive indie pop .
'When you believed' is an exuberant single that zips along nicely and is blessed with an infectiously catchy chorus. Similar to the likes of Bloc Party with their energetic bass lines and frantic drumming, only with a far more saccharine pop vocal, To The Chase clearly have an ear for a good hook and a danceable beat.  An enjoyable toe-tapper, 'When You Believed' wouldn't sound at all out of place amongst mainstream indie radio.
'The Return' is slightly less engaging. The big-band style brass line that dominates the song doesn't do enough to disguise an otherwise slightly bland tune. Nevertheless, if the band can replicate the high tempo fun of 'When You Believed', they could prove a summer favourite once Festival Season rolls around.
Release Date 17/04/2011 (Listen Close Records)