The Pirates have spoken!
From over 2,000 submissions, 30 acts from across the UK have been chosen to compete for the prize of a lifetime. Just three of these musical outfits will be awarded with a talent development package that includes everything​ they need to break into the musical stratosphere in 2018, including unlimited rehearsal, recording, industry mentoring and more.
For this special 'Who Are Ya' takeover we profile 3 top North West acts that have made to the Pirate Prodigies final.
The brains behind this incredible competition is the swashbucklers over at Pirate Studios (you can read recent our interview with them here). David Borrie, the Co-Founder of Pirate Studios, explains why this contest is so important, "We have 25,000+ musicians in our community, so many of them are producing amazing music. We find it incredible some of these guys aren't already household names so we thought it would be awesome if we could be the ones to give them a helping hand."
The programme has been backed  and the teams behind Liam Gallagher, Charli XCX, The Libertines, The Zutons and Brit & NME award winner Kate Nash, who adds "I'm so excited to be a part of this. What Pirate Studios are doing for the music scene is the most supportive/coolest thing I've seen in years! Get involved."
It's now up to you, the discerning public to vote for your favourites. Voting closes on Friday 20th April, and you can find out how to cast yours after this interview…
First up Rival Bones…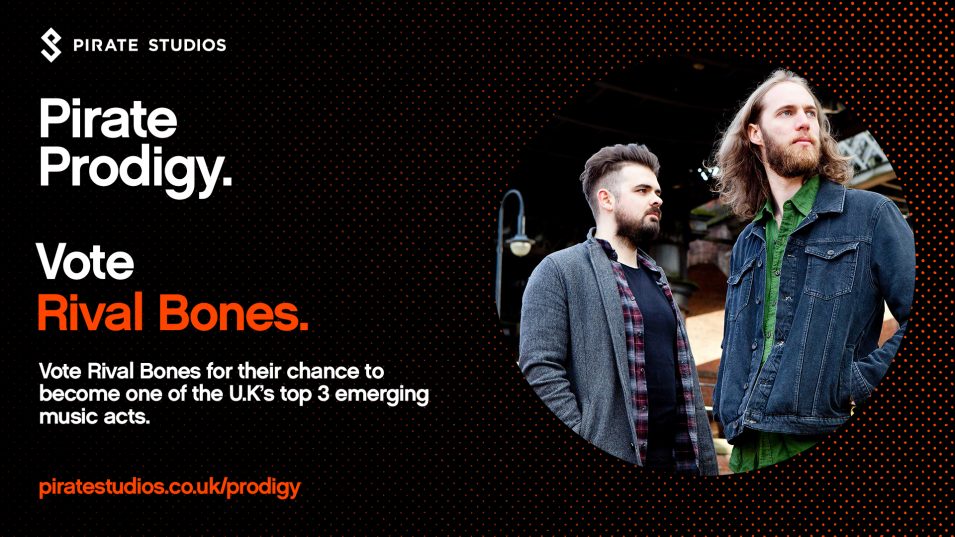 Who are ya? Well me and James have both been playing music since we were really long. I've been drumming since I was 7, James playing guitar since he was 13. We got together as RIVAL BONES end of 2013!
Where are you from? Liverpool
Is being a musician your full time job? We both have side jobs as well solely for the reason of funding the band. All our material, videos, merchandise is all bought by us, so we work P/T to make the band happen.
Are there any obvious influences in your music? I think people will always look to compare us to other two piece bands and there's definitely other two pieces that we both like. However, I think the most 'obvious' influences are probably Audioslave, Rage Against The Machine & QOTSA.
Are there any not so obvious influences in your music? We're influenced by a lot! Anything from Noel Gallagher to Michael Jackson to Tool. Some of that comes through more blatantly and others will be subtle enough that even we probably wouldn't recognise that a certain idea or part of a song is influenced by something else. I think it's great to absorb as much as you can and then go into the rehearsal room and play what comes out. Things will naturally come out, but it should always be YOUR ideas.
Any musical Guilty Pleasures? Come on you can share, we're all friends here! Hahaha, everyone has guilty pleasures right!? I used to play in an ABBA tribute act when I was really young. They're a guilty pleasure I guess…
Apart from yourself of course, what other band/artist would you recommend our readers check out? We've played with a few of the other bands on the Pirate Prodigy list. We'd recommend False Heads for anyone interested, great guys and an awesome band!
Tell us about the defining moment when you thought 'Fuck, yes I want to be a musician!' For me, it was listening to 'The Black Album' by Metallica and watching videos of them playing. I tried to emulate Lars Ulrich as much as possible when I was 7. Since then it's been constantly striving for the next thing and building up.
For James, his defining moment was January 27 2004 – his dad made him watch the Cream Farewell Tour at The Royal Albert Hall. He knew 3 things after that, he wanted long hair, wanted a Cherry Red Gibson ES 335 and wanted to play the Albert Hall.

Does what go on, on tour, stay on tour? Yeah of course. But me and James are pretty straight edge haha. As there's only two of us, I'm usually driving to shows and James doesn't drink when I drive, as he doesn't like being the drunk mess slung into my car at the end of the night! We've had some good times though especially when we went to South Korea. But as you said, what goes on tour stays on tour!
What's your most favouritist gig (as a gig goer), like, ever? I have two. Firstly, Red Hot Chili Peppers in Manchester supported by James Brown. Unreal gig. Secondly, Rage Against The Machine at Download in 2010. I was 16 at that gig and it was unbelievable.
Who, in your wildest dreams would you like to collaborate with/be produced by? We have a great producer Tony Draper but there's a load of people we'd love to co produce with him. Eric Valentine probably being number one (he does a lot of the QOTSA stuff). Also Alan Moulder he's worked with NIN, Foo Fighters, Gary Numan, Royal Blood and many more. In terms of collaborating, we'd do a 3 piece RATM cover band with Zac De La Rocha.
Best place for people to find out what you are up to? Our website – www.rivalbones.com
Anything to declare? We've just released our latest single SCARS last week. Check it out on Spotify, Facebook, YouTube etc. We're also releasing the 'B Side' to that in the next few weeks so keep your eyes out for it. We'll be up and down the country this summer from Live @ Leeds to The Great Escape in Brighton. Make sure you catch us!
Vote for Rival Bones to receive the hallowed Pirate Prodigies package of a lifetime here www.piratestudios.co.uk/prodigy
Voting closes Friday 20th April – so hurry!