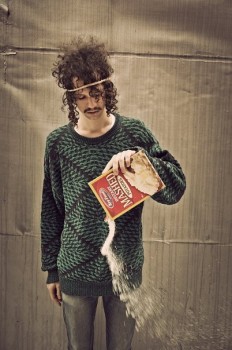 – THE RUBY LOUNGE, MANCHESTER –
With all the '80s nostalgia going on at the moment, I was fully expecting a dose of it at the Ruby Lounge tonight.
Rolled up jeans, hairbands, there was even a Bananarama-style jump suit on offer.
I don't condone it, but maybe that is because I suffered it the first time round, before the majority of tonight's audience were born.
They were all here to support their leader, Mr Deez, who appears from the back of the venue bouncing through the audience to LCD Sound System's 'North American Scum'. Am I reading too much into that? Probably.
Tonight is all about fun. It isn't time for his band just yet, he is helping set up and pass on some dance moves to his support act, Natalie Findlay.
Natalie Findlay, on the other hand, isn't stuck in the 1980s. She has a very strong voice and stage presence and her band confidently deliver their indie rock sound, which leaves me feeling pleasantly surprised. I hope she is on Myspace.
After a short break, Darwin and his band take to the stage and quickly set the tone for the rest of the night.
If there was a competition tonight for the best head-band, Darwin would win. He is sporting his usual simplistic string band, holding back his orthodox locks and what looks like my dad's cardigan.
The band introduce themselves with a short burst of formation dancing and then quickly break into 'Up In The Clouds' and 'Constellations'.
More formation dancing follows between tracks, with more '80s worship and sound bites from the Pointer Sisters and the Jackson Five.
This does nothing more than fuel the audience's enjoyment. "We love you," they shout, and that's just the boys.
The sound is distinctive, but not repetitive, and as far as the quirky three minute indie pop song market goes, they certainly have it cornered.
Some more performance art follows and we even have some audience participation. If it was December you might be forgiven for thinking we are at a pantomime, with the audience being split into parts and following the arm actions of particular band members.
The arm-waving crowd is built up to the climax with the final track 'Radar Detector'.
I retreat into the cold of the Manchester night knowing full well that tomorrow morning's earworm is going to be one I have heard tonight. But you don't mind that when you know it is coming from a band that are not trying to be cool about their roots and influences but are obviously just having a lot of fun.
Fun? Oh yes, I remember that, 1980 . . .