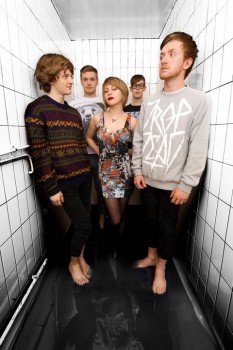 – THE ROADHOUSE, MANCHESTER –
What, with having a job, and enjoying things like showers and evening meals, I can't make the 6pm doors at the Roadhouse. I've missed 'Throats', but a friend tells me it was 'like being sonically raped', so maybe that pie wasn't such a bad idea after all.
Alex, the singer from 'Trash Talk', describes them as punk-hardcore, so I'm a little surprised they sound more like 'Napalm Death' than 'Black Flag'. One song, off their last EP, lasts twenty seconds; it makes me wonder how much value that purchase represents… Unfortunately, the best ideas come in the 30 second songs. If they developed them a little more, then 'Trash Talk' would be palatable – but I guess palatable and hardcore don't mix.
As the energy slowly begins to transmit to the audience, the song 'Empty', off their new album, starts with a metal a-capella, then the vocals are drowned out by a mess of drums, bass and… oh, it's finished – in less than the time it takes me to write two sentences.
The finale is great; the singer jumps into the crowd for the fifth time, runs up to the bouncer, screams in his face, then goes and stands in the corner and screams at the wall.
I love bands who begin well, and Rolo Tomassi make an explosive start. In some ways, their sound is lightweight compared to 'Trash Talk' – by which I mean they have chord progressions, and identifiable sections to their songs.
Even the bar-staff are dazzled by the 'Ooh, look: a female singer!' effect. I only manage to avoid Eva's charms by turning away – like Indie in 'Raiders of the Lost Ark'. When you listen to her voice, it's not up there with the best male singers in this field, and I feel like I'd be betraying my claims to being a feminist by saying she's 'exceptionally good' just because she's the best female metal singer I've seen.
No such dilemmas about her ability to front a band though, as with some help from vocalist/keyboard player James, she does a great job of engaging with the crowd. She also mucks in with the rest of the band in going utterly mental, in a way few other bands bother to do. Rolo Tomassi are a sight to behold, I promise you.
Their second song is brand new and it sums them up well – a technical drum intro gives way to a cacophony of crazy timings and noise, then hits a verse which sounds like the theme music from 'Magnum P.I.' crossed with pneumonic plague. It's good.
Another winner for me is the synth sounds – lifted straight from old computer games and played with incredible gusto. There are some real melodies here, which only serves to give the heavy bits more impact. There's more in-to-the-crowd action at the end of the show too. James and the guitarist jump down from the stage and mingle with the little people. It gives you that feeling of really being involved. Awww.