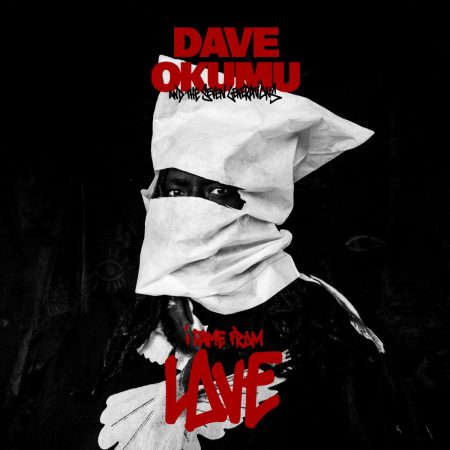 'I Came From Love' is a massively ambitious record. In its attempt to map the Black experience through ancestry, the legacy of slavery, the impact of living in an unjust society and Dave Okumu's family history, its scope is similar to Steve McQueen's magisterial 'Small Axe' collection of films. A novelistic ambition is illustrated in how each collection of three or four songs are presented as chapters suggesting wider themes, namely 'You Survived So I Might Live', 'The Intolerable Suffering of (the) Other', 'Seduced By Babylon' and 'Cave of Origins'.
Okumu is the youngest child of eight, born in Vienna to Kenyan parents and moved to London aged 10. Having been part of Mercury Prize nominated art rock trio, The Invisible, subsequently he has worked as a producer and session musician for a range of performers including his hero, Grace Jones (who appears on the album), as well as Tony Allen, Amy Winehouse and Adele. His extensive contacts book has enabled him to assemble an impressive array of musicians and vocalists to form The 7 Generations. 
The opening salvo, 'Two things', is a short burst based on a young girl, Priscilla, being purchased at a slave auction in South Carolina in 1756 with Jones reciting from slave owner Elias Ball's diary ("do two things, buy land and buy young slaves") to gospel backing. It is so shocking in its matter-of-factness that it provides fresh perspective on the horrors of slavery. Jones also appears on '7 Generations', along with ESKA and Wesley Joseph, declaring that we should "feel the resilience of seven generations" while the musical palette is an engaging blend of electronics and skittish rhythms with a hint of Cajun. With a backdrop of sampled protest calls and news clips, 'Blood Ah Go Run' recalls the horror of the 1981 New Cross house fire in which 13 black teenagers died. Urgent bass rhythms propel the song's exploration of the response from different factions of society and honours those who died ("if no justice no come"). In contrast, 'Streets' moves from eery orchestration to expressive jazz wailing and defiant sentiment ("we're gonna hear the caged birds sing again"). 
Having been unable to clear a sample of CLR James reading Aime Cesaire's poem 'Return to my Native Land', 'My Negritude' has it recited by the poet Anthony Joseph whose album 'The Rich Are Only Defeated When Running For Their Lives' had the unexpected accolade of being my album of 2021. In mood and spare funk backing this piece recalls The Last Poets. 'The Cost' has Kwabs ruminating on the price of minority survival while otherworldly keyboards and synths courtesy of The Cinematic Orchestra's Nick Ramm and Loyle Carner's MD Aviram Barath gives off an uneasy vibe which is maintained during the trip hop flavoured 'Prison' featuring Wesley Joseph. 'Black Firework' is based around Okumu's five-year-old son claiming to see black fireworks in a display and that becoming a metaphor for the ascendency of black culture. With its funky bassline, dub echo and gospel voices, it makes a great centrepiece of the second chapter. The notion of the black firework is revisited later during 'Get Out'.
'Scenes' starts with a sample stating, "the job of the enemy is to make you identify with the enemy". Accompanied by enticing wandering sax lines, Anthony Joseph's defiant oration ("we cannot be sent back… we cannot be a metaphor for difference"), proclamation of beauty and refusal to be silenced is a very necessary riposte to the climate created by the cruel words and actions of Home Secretary Suella Braverman. The electro funk feast 'Amnesia' posits the idea that England suffers from unconscious heartbreak over loss of Empire and those who suffered imperialism are still feeling its ancestral echoes.
'The Struggle' repeats the phrases "the struggle to articulate what we're going through / the struggle to articulate what we're going to do" to a great sax led groove while 'Eyes on Me' point that "the system's broken" is matched by the urgency of the basslines and rhythms, the drumming of Sons of Kemet's Tom Skinner adding to the propulsion. To a chilled dub groove, 'Abaka' is a spoken word piece about personal ancestry, the web of interconnections and myths with soulful backing. The album closes with a piece of consciousness dub, 'Paradise', its refrain expressing hope tinged with doubt, 'I came from love / shall I return to paradise". It completes a journey that fully engages the head and heart.
Dave Okumu & the 7 Generations: I Came From Love – Out 14th April 2023 (Transgressive)