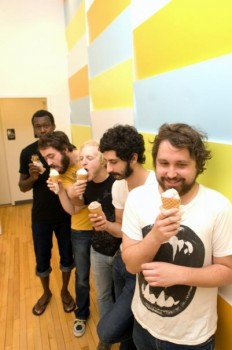 – THE DEAF INSTITUTE, MANCHESTER –
With the students at home on their Easter break, and some football match in Salford apparently piquing the interest of anyone left behind, Oxford Road is deathly quiet. So too is the normally heaving Deaf Institute, and it's to a practically deserted ballroom that tight-trousered local foursome, Hey Zeus! introduce themselves.
Bassist, Luke Nottingham's dominates proceedings, his instrument as vivid a red as the drapes which surround the stage (© Finbarr Saunders), while he plucks out a barrage of new romantic funk from its strings, lending proceedings a latter-day Mystery Jets feel.
In the rare moments he steps up the the mic, guitarist Andy Zylko – surely well schooled in the works of Johnny Marr – proves to have a better set of pipes than frontman, Jonah Klein, mainly because his voice is less affected, less this-is-how-you're-meant-to-sing-if-you're-in-an-80′s-inspired-indie-band-these-days.
For all the giddiness that comes with exploring new territories (this is Royal Bangs' début show in Manchester) it must be demoralising to see an empty dancefloor moments before you're on. The very second the Tennessee trio approach the spotlight, however, every nook and cranny in the room empties, and the moon-like atmosphere is lifted by Appalachian band leader, Ryan Schaefer, gallantly promising not to piss on anyone if they come closer. Everybody does.
Although they have a pair of superb albums under their belts, 'We Breed Champions' and its follow-up, 'Let It Beep', both of which were released in the UK last year, two of the opening three tracks are as yet unreleased, this brave curveball showing that their creative juices are flowing as freely as the magma from Mount Etna on a bad day.
Drummer, Chris Rusk is relentless, his hands rarely less than a blur, Sam Stratton's off-kilter riffs are as unpredictable as they are memorable, and Schaefer has a voice so monumental that it could blow out the candles on a birthday cake at a hundred paces.
The devil is in the detail with Royal Bangs, and while their songs tend to eschew choruses in favour of cascades of ideas and incessant hooks, they have more cute touches in the likes of 'Brainbow', 'Poison Control' and the triumphant 'Handcuff Killa' than most of their peers can muster in an entire career.
In short, they're outstanding, and if this place isn't rammed for their return, I'll eat my own arse. And I won't even need any ketchup.