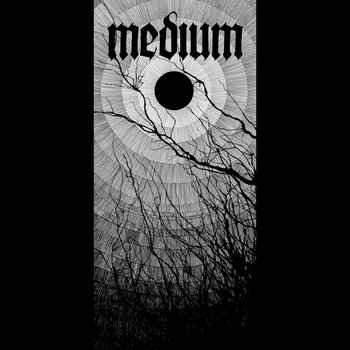 Medium. No longer just a t-shirt size, a difficulty setting on a video game or a spirit channelling idealist. No, a frantic crash straight out of Argentina and on a very underrated record label in Transcending Obscurity Records.
This is a short and sweat filled release. Medium's self-titled debut is a maniacal laugh in that it is something many will want to replicate once heard. It's very much the early scenes of all the genres it engulfs. It's Mayhem's black metal, its Death's guitar ethic driven brutality wrapped in a rough form that has no time to piss about. There isn't a sense that this release is constructed to impress anyone seeking a complete album. This is most likely the bulk of their material, put together to be exposed to afresh audience, the world audience.
Receiving acknowledgment from respectable outlets as 'Decibel' and 'No Clean Singing' (for underground, extreme or little known in metal, worth looking at) Medium have put together a great little "Hello" to be examined fairly for those who want something that sounds drastic, caustic and out for blood. Has a great early impression of weaving in different extremes without just playing faster, doubling up the drums and growling to a degree it sounds ridiculous.
'Night Vision' being the apt song to choose as the collections stand out. 2020 continues to serve me new and interesting releases, in no small or medium fashion.
Medium: Medium – Out Now (Transcending Obscurity Records)