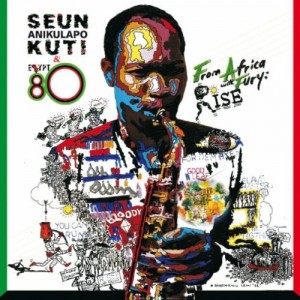 When Fela, Seun's father, died of AIDS in 1997, you can bet that the Nigerian authorities could not believe their luck. For decades, Fela Kuti was an outspoken and fearless critic of his native government – Nigeria is (according to Forbes) the world's 18th most corrupt country. His self-given middle name Anikulapo, adopted by his son, means "he who carries death in his pouch". What sounds like hubris is a statement of fact. Where we in England contest whether "Kettling" is a human rights violation, Fela Kuti suffered continual, unlawful harassment by the police. On one occasion he was nearly beaten to death, saved only by the intervention of an officer, while his mother was thrown to her death from a window, and his home studio and instruments burned. His music, an amorphous mixture of Aphrobeat, jazz and funk (don't let this put you off!), and his defiant lyrics were the channel for his political sentiments, and he quickly gained popularity across the African continent.
Fourteen years later Seun picks up exactly where he left off. The use of his father's band, Egypt 80, the highly-politicised subject matter, his vocal style all lead to the feeling that Seun is his father's reincarnation. If it weren't for the precocious title, From Africa With Fury: Rise, this could be Fela's latest offering (from beyond the grave). This is both a blessing and a blight. Egypt 80 (and Seun Kuti) set an exceptionally high standard, both musically and lyrically, and it's a pleasure to hear that this creativity has survived death and repression. Guitars flicker, trumpets blare out and Seun vents his fury defiantly. Nothing has changed, which is of course annoying if you're looking for something new, and great if you think the formula is too fine to fail with. But with Brian Eno at the controls what could possibly go wrong?
Actually nothing. Though Seun remains firmly in his father's shadow, the sense of purpose, and the intensity of the delivery, from all the band members, renders the excitement palpable. If Seun's aim is to entertain, inspire, and out the abuses of power that are so rife in much of Africa, which it surely is, then From Africa With Fury: Rise is a massive success. Now it's time for the son to cleave his own furrow.
Release Date 04/04/2011 (Because Music)