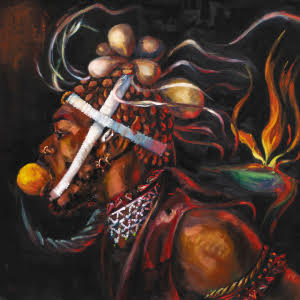 Sometimes a voice leaps out as mind-blowing. From the moment Desire Marea opens his mouth on opening track 'Ezulwini', revealing a voice which seduces and soars into the outer stratosphere, it is clear that this is wow and flutter territory. Aptly, he is repeating the mantra "I wanna see you levitate". 
Marea's 2020 debut album used electronic genres to explore love and loss. In contrast, 'On the Romance of Being', was recorded live with a 13-musician ensemble, often using the first take and is a more fitting celebration of his talent. The band contains award-winning members of the Durban/Joburg jazz scene, Sibusiso Mashiloane and Sbu Zond, together with prominent players in the South African experimental music scene, Portia Sibiya, Andrei Van Wyk and Sanele Ngubane.
Over the past two years, Marea has trained as a Sangoma, a traditional Nguni spiritual healer. Ancient songs and drumming sequences are used to invoke spirits residing within him. The process involves entering a trance state and using music to heal. 'On the Romance of Being' has a strong spiritual feel to it. 
'Be Free' begins with a terse bassline before a cacophony of horns, synths and percussion swell. The song looks to celebrate love and freedom while reflecting the issues confronting men falling in love with each other in the hypermasculine world of South African taxi gangs and the entrenched homophobic attitudes ("Acting so strange / Like love is a /Scary scary scary scary / Monster from your childhood").
'Makhukhu' with its piano, gospel sighs and trumpet warbles sees him referencing mountains, flight and gateways to bliss, Marea's voice a seductive sigh reminiscent of Moses Sumney in its honeyed tones and startling range. In contrast, 'Mfula (River)' starts with tribal drums and guitar slashes before taking a more atmospheric turn.
'Arrival' is at its most stunning when the music temporarily drops out, leaving Marea's voice unaccompanied, beseechingly showing that the path of love is not running smoothly ("You ignore that I love you / Tried my hardest to show you / Incongruent love language, the death of me").
One of the album's centrepieces is 'Rah' an eight-minute epic sung entirely in Zulu decrying the decay of an earth scarred by drought and praying for rain. It features contributions from fellow KwaZulu Natal artist Zoe Madiga and South African opera singer Ann Masina to create a rich vocal feast weaving between each other. The slowly building horns, strings and percussion offer the ideal space for these voices to bloom. 'Skhathi' with its delicate keys, languorous vocals and gospel sighs offers respite from this intensity with its ode to childhood comfort.
'On the Romance of Being' concludes with another epic, the nearly ten-minute 'Banzi' which buds from gentle beginnings before dipping back to solitary synth and vocal grunts until trombone and percussion set up an invigorating full frontal extended jazz storm grand finale, subsiding to leave Marea's spine-tingling voice singing "Nawa ama Shoba". It is a dazzling end to an album that showcases an excellent new vocal talent.
Desire Marea: On the Romance of Being – Out 7th April 2023 (Mute Records)