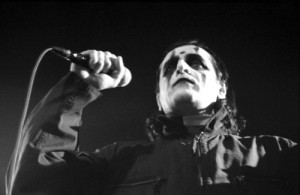 – ACADEMY 2, MANCHESTER –
Punk rock is supposed to be unpredictable, theatrical and ball-bustingly energetic, and if there is one band encompassing those elements with every fiber of their being, it is Killing Joke. Not only is their fourteenth and most recent album, Absolute Dissent, every bit as liable to strip paint from studio walls as their 31-year self-titled debut, but singer Jaz Coleman hasn't lost any of his intensely abrasive zeal.
Drummer, Paul Ferguson, once described Coleman's voice as "the sound of the earth vomiting", and you can almost hear the polar ice caps creaking when Jaz growls his righteous rancour into the microphone. Off stage he's all heart, handshakes and smiles, but once he hits those boards, he's a mystical force to be reckoned with – eyes as wide as a super moon – shaking his body like a possessed shaman.
All the while, the rest of the band play on with nonchalant coolness, as if it's just another day at the office from hell. Mean and moody guitarist, Geordie Walker, fixes the audience with an ice-cold, Rutger Hauer stare. His distinctively spare, angular guitar style, with its rolling, chugging riffs and distorted chords, remains truly electrifying.
31- years on, Killing Joke's uncompromising, industrial sound – mixing post-punk aggression with electronica and heavy rock – still sounds fresh and a million light years ahead. It's a musical template – exemplified at this gig by highlights such as Requiem, Change, Wardance and head-banging encore choice Pandemonium – much imitated today.