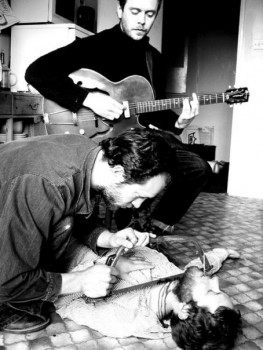 – ACADEMY 3, MANCHESTER –
They've been away and now they're back, with a cracking new album and live show to further blow our tinnitus fizzing ears. 'Coconut' released on the 1st of March has been widely praised, and much has been made of the input of DFA's Tim Goldsworthy on the sessions Stateside for the album. A few listens and its clear the collaboration has borne some rich fruit.
The Academy 3 (or the Hop & Grape bar, as some of us remember it) is nearly full by the time ABO take the stage, no doubt due to the great reviews of the album prior to the tour, but they are a band worthy of your attention.
As the four piece kick off with 'One Up On Yourself' from the new album, it's apparent they are taking no prisoners, propulsive and incendiary, they are far heavier live than their previous recorded output would suggest.
'Cherry Lips' is introduced as an "older song" and it swaggers along creating a groove in its wake, pulling us all in. 'Wild Strawberries' follows, and is a highlight from the new album, but live it's nervy and edgy, bordering on hysterical. Sam Windett hollers "Let's move up to the country". If this was the soundtrack to Channel 4's Escape to the Country, rural England would be full of wired, bug eyed city types, high on mephedrone with axes hidden under the back seat of their Range Rovers. Chilling.
'Shark's Tooth' brings a change of pace, and dare I say it, a disco groove follows. It's obvious that they've moved on from their more basic early garage rock 'n' roll sound and it stands them head and shoulders above their peers.
They return once more with 'Dart For My Sweetheart' from the album DerDang DerDang, it's a psychedelic blues freakout, all disco drums and reverb soaked guitars.
It could be said that the Archie Bronson Outfit were the best kept secret on the Domino roster, but that's gonna change. Coconut, it's a hard nut to crack, but the effort makes the reward so much sweeter.