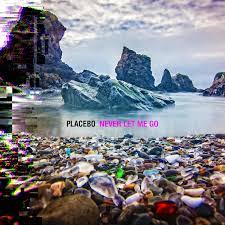 Placebo have always walked the line between clever lyrics, and a dark melodic edge, with guitarist and singer Brian Molko and bassist Stefan Olsdal being  the two original members who have kept the Placebo flame burning bright for over twenty five years. Molko has always had an astute lyrical wisdom, which thankfully is still as cutting as ever, and on their ninth album can be found tackling global issues as well as personal ones.
'Forever Chemicals'  launches with an heavy industrial feel with Brian Molko singing "with friends like you, who needs enemies", whereas 'Beautiful James' has Molko observing that "everybody lies at least one hundred times a day" as the synths pulsate underneath a hugely melodic vocal line. The great one liners don't stop there either "a hug is another way of hiding your face" he wryly observes on 'Hugz'  as Olsdal's powerful basslines reverberate along. Molko's lyrical musings were ways astute, bitter sweet and as sharp as broken glass, this time around they're the shattered remnants of a fine vintage as opposed to a crushed can of lager.
'The Prodigal' finds Molko ruminating that "sorrow can set you free" whilst  lush strings sweep away any notion of melancholy, whereas 'Surrounded By Spies' builds up into the lyrical equivalent of a claustrophobic nightmare, listing scenarios such as "suspicious bag on the platform" and "gave my heart now I want it back". The exuberant 'Try Better Next Time' finds Molko revealing "So you know me, understand me, is that what you think, you haven't met the monster who wakes up when I drink"  he sings over an uplifting guitar and synth melody.
Although renowned for their intensely  melodic hooks, it's not all huge sounding earworms as 'This Is What You Wanted' has a hypnotic piano melody nestling within, and 'Went Missing' has more subtle tones to its allure.
After twenty five years of making music which shines a light on the marginalised, the underground, and a host of characters encountered along the way, Molko, Olsdal and co, continue to be a potent songwriting force. 'Never Let Me Go' is a jagged diamond of an album –  brilliantly melodic but with enough fire and venom to keep your ears thoroughly entertained.
Placeb0: Never Let Me Go – Out Now (So Recordings)