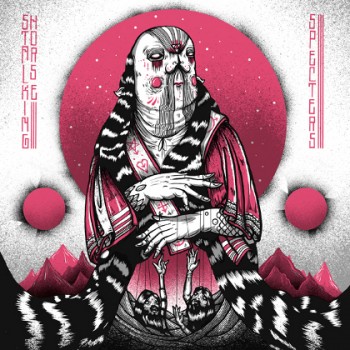 Specters is the debut album from Stalking Horse – produced by James Kenosha (Pulled Apart By Horses, Dry The River, Grammatics, Dinosaur Pile Up), with all tracks written and performed by Wu (ex-This Et Al).
Specters is now available to pre-order on 12″ vinyl from http://www.stalkinghorse.co.uk, released 14th May 2012 via Role Model Corporate. All pre-orders (which include an immediate digital download) will be shipped prior to the official release date of 14th May 2012 and the first 100 orders will come with handmade, screen-printed alternative cover. You can also buy t-shirt/screen print and digital bundles, or the digital album on its own. The album will be released through online digital music stores from the 14th May 2012.
Track Listing:
1. Key Strokes.
2. The Dawn Is Father To The Sun.
3. 99 Stairs.
4. The Creeps.
5. Mistress.
6. Doctor A Heart.
7. Heathen Head, Howling Heart.
8. Little Rituals.
9. Waterhole.
10. Lament
To celebrate the release, you can get a free download of 'Heathen Head, Howling Heart' in exchange for an email address by clicking here – http://vnyl.me/225IA0
, or in exchange for a Tweet or Facebook post by clicking here –http://trkurl.com/9YNijw.
Compared to Clinic, Thom Yorke, Everything Everything and Wild Beasts; Stalking Horse is undeniably an individual creature with a sound of its own, maintaining a sense of song writing that is neither overly self indulgent or negligent of the artists duty to be creative. Stalking Horse has performed alongside Wild Beasts, …And You Will Know Us By The Trail Of Dead, The Twilight Sad, I Like Trains and Pulled Apart By Horses – with a live band featuring members of This Et Al, Grammatics, Duels and These Monsters.