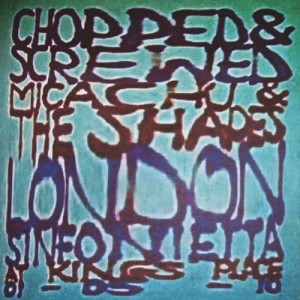 Chopped & Screwed is being touted as Rough Trade's first ever classical release, and is the live product of a collaborative effort between three-piece Micachu and The Shapes and contemporary orchestra London Sinfonietta.
The set, recorded last May at King's Place in The Big Smoke, came about after frontwoman Mica was invited by London Sinfonietta to compose a set that would represent her influences.
And, being a classically trained muso, having once composed a piece that was performed by the London Philharmonic Orchestra, and then going on to release a grime album prior to M&TS, she was well equipped to oblige with the aid of Shapes, Raisa Khan and Marc Pell.
The album concept was apparently inspired by the "chopping & screwing" technique in American hip-hop, supposedly pioneered by DJ Screw and, bizarrely, a codeine-based cough syrup called Purple Drank, which, according to the press release, slows down the brain, "giving mellow music its appeal." So, mellow music has that to be thankful for.
You might rightly think, "Oh whoopee, another band/orchestra collab," since all and sundry from Elbow to Metallica have delved into such ventures to varying effect the idea doesn't particularly excite.
And, with Chopped & Screwed, the resulting feeling is no different.
It's not a scratch on their first album, Jewellery, but having said that, it's not strictly speaking an M&TS album. It does also contain a lot of the elements that make good music in that it's bold, uninhibited and unapologetically subversive. But at the same time it is missing a certain spark.
Their music is pop to a degree, though slightly less conventional and at times, as with Chopped and Screwed, a bit inaccessible, which is challenging, and will no doubt suit them as artists, but might leave the listener hanging.
The nine tracks segue into each other and it's not always clear where one track begins and the other ends. There are only two or three where any kind of structure materialises.
After the dissonant orchestral droning of the first two tracks, 'Everything' stands out as the first to grow legs and up the tempo. Then, another trip through the droning neighbourhoods of garbled, unhinged vocals to the melodic, 'Medicine Drank': a paean to the ameliorative effects of cough syrup, no doubt.
The set sounds like two groups of artists experimenting together, which is fine, but at times it seems like a bit of a brainstorming session, and consequently does not seem to ever get going.
So, why release it? And why after nearly a year? Were there towering expenses to recoup, or will it pay for the next performance of it in April? It leaves so many questions unanswered…
Chopped & Screwed isn't a bad album; it works together as a whole in a weird kind of way, but it was possibly more appealing as a live spectacle. I'm just not really sure how it would appeal to anyone other than fans. But…we shall see.

Release Date 28/03/2011 (Rough Trade)