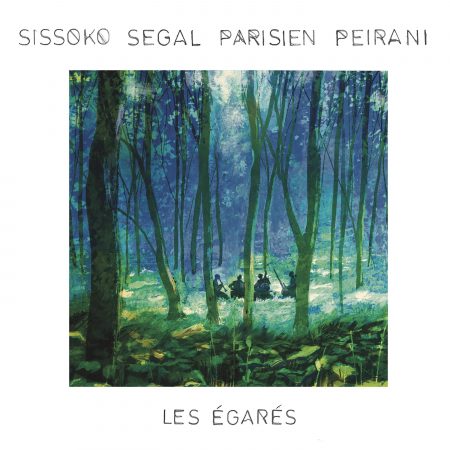 At its best, music can be a balm that sees all stresses evaporate. That is certainly the feeling generated by the opening track of 'Les Egarés', 'Ta Nye', each note a carefully placed finger on the temple, massaging away anxiety.
'Les Egarés' is the work of a quartet consisting of Ballaké Sissoko (kora), Vincent Segal (cello), Vincent Peirani (accordion) and Émile Parisien (sax). Their collaboration was an idea born in June 2019 at Les Nuits de Fourvière Festival celebrating the 15th anniversary of the NØ FØRMAT label. Two duos (Sissoko and Segal, Peirani and Parisien) came together with the agreement that rehearsal should never take precedence over spontaneous creation. Their initial jam resulted in the idea of forming a quartet of 'Egarés' ('those who have gone astray').  
Their music floats in a gorgeous netherworld where elements of jazz, trad, chamber music and the avant-garde intersect to create something new and rather fine. It is immediately striking that the performances show musicians at ease with their own skills and those of their comrades, never needing to indulge in unnecessary solos, listening carefully to each other and putting their technique at the service of creating their own world with a thrilling unity of sound.   
'Izao' bubbles with Armenian textures as Peirani's accordion weaves enticing patterns and Parisien's sax wafts seductively above it. 'Amenhotep' begins with Segal's delicately plucked cello which merges with Sissoko's kora before the accordion and sax wrap around each other to create an intoxicating trance. A Joe Zawinul cover, 'Orient Express', provides a swift rhythm and a pleasurable journey, each twist and turn enjoyable as they inexorably head to their destination, the final accordion notes an emphatic declaration of their arrival.
The album is spiced with acts of illusion, as exemplified by 'La Chanson des Egarés' momentarily sounding like a snake charmer conjuring their spell. Even more extraordinarily, the sax on 'Dou' genuinely sounds as if it is singing. The track also has elements of ancestral blues, Sissoko's kora picking taking initial prominence before each performer takes up the baton. 'Timebum' which is taken from the repertoire of 'Bumcello, a duo consisting of Segal and drummer Cyril Alef, creates the illusion of a brass ensemble. 
'Esperanza', an interpretation of a piece by accordionist Marc Perrone, has a cumbia tang to it as the accordion, sax and kora dance around each other in exhilarating patterns while 'Nomad's Sky' with its delicate, deliberate bass notes and tough cello has a night-time, sundown air. Parisien's solo introduction to the final tune, 'Banja', is airborne, managing to simultaneously float and skip.
It is a tribute to the nimble playing of the quartet that this combination of instrumentation, which I have never encountered previously, sound like the most natural companions to such an extent that is surprising it is not as omnipresent as the traditional bass, guitar and drums line up. It makes 'Les Egarés' a sublime and spellbinding album.
Sissoko Segal Parisien Peirani: Les Egarés – Out 31st March 2023 (Nø Førmat! Records)