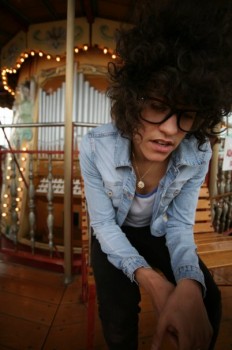 – BAND ON THE WALL, MANCHESTER –
It is clear that I am not a regular to the newly refurbished Band On the Wall, when I turn up at the Frog and Bucket, to claim my place on the guest list, which, I insist exists, despite clearly being at the wrong venue. It is only after the manager appears, to tell me that I am not on the list and that I am at the wrong club, that I scuttle off, ashamed, only to come back two minutes later, to ask where the Band on the Wall is.
After a shaky start, I arrive at Band on the Wall just in time to see I am Blackbird one of the two support acts of the evening. I am Blackbird are an impressive Blues Funk guitar band who play a tight, well thought out set. The addition of a cello player at the side of the stage adds a new dimension to the band, which makes them more than just your standard Blues Funk band. The aforementioned Cello player doubled up as a maraca player so, multitalented as well.
I sit on the balcony and end up next to the lead singer of I am Blackbird's, proud Mum, who asks me to try and work the camera on her phone, so she can take pictures of her Son. After three attempts I manage to work out how to use her camera and she dutifully snaps away. After I am Blackbird played, she left, obviously, not too curious to find out more, about the main event, Karima Francis.
As with most gigs it is standard to wait ten minutes between acts while harassed looking men, remove drum kits and plug stuff in, for the next band. After that, Karima Francis and her backing band, a bassist and guitarist, take to the stage. She said it is 'great to be back home' for her gig in Manchester, and she looks genuinely happy to be on stage.
Her positive start stalls when Karima's main guitar isn't working properly and more harassed men run around changing levels. Luckily, she has another guitar to hand, which, funnily enough, she was going to sell that day and while the crowd are waiting she blames the technical difficulties on her guitarist, Simon, who jinxed her by saying, 'I can't think of anything that could go wrong.' This raises a laugh from the audience and stops them from feeling restless
By the time Karima starts to play it is, worth the wait, she has an amazing voice, her range is seemingly endless and she effortlessly hits the high notes. Her songs such as 'Wherever I Go' and 'The Author' are all hopelessly romantic and reflect on the usual themes of love and loss. The atmosphere is intimate, as she flirts shamelessly with members of the audience, cashing in on her good looks, she even invites the audience, for drinks at Matt and Fred's after the gig, and she makes the crowd feel as though they are all her mates. Her willingness to show people, her vulnerability makes you want to look after her and lends itself to her songs which, have a similar lovelorn theme to theme, and act as a kind of love letter to the whole audience.
The notable exception, is the last song of the night, which she wrote on her year off, 'when she was ill and it her saved her life' this song is about her and has a very personal theme to it, which makes the song a moving, heartfelt expression of a difficult period in her life. Following from this song Karima receives a rapturous applause, and she deserves it, for overcoming all her personal demons as well as producing a moving and engaging performance.
After the gig Karima goes straight to the bar and has no shortage of female admirers, she is very open about her sexuality and with her well- formed androgynous looks, have girls keen to get to know her. She takes all the attention in her stride, which belies the self- conscious side that she shows on stage. We leave the gig knowing that Karima Francis's night has only just begun, and there will be many people willing to tell her, how much they like her; the making and the breaking of many a star.