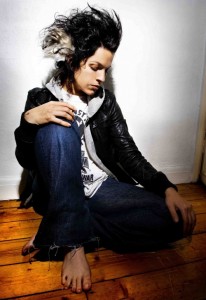 – THE DEAF INSTITUTE, MANCHESTER –
Looking like she has just arrived at Trof this evening by Gothic Express, Jesca Hoop cuts a rather striking mystical figure on stage bare footed and clad in a flowing black dress. This North Californian songstress now decamped to Manchester for the past two years after persuasion from our own Guy Harvey has an impressive admirers list including none other than Tom Waits (for whom she used to nanny). Tonight Manchester gets a visit from Hoop currently on a mini tour off the back of her most recent and last self released EP 'Snow Globe' which is a stripped down homage to her family and roots. She will then be whisked off to LA after signing to Vanguard to record an album which is pencilled to be released sometime in September.
You can sense immediately tonight is not going to be any ordinary evening of folk tunes and I'm certainly not wrong. Joined on stage by her band with two backing singers the anticipation in the packed out crowd grows. As they set up Hoop tells us the story behind the song 'Whispering Light', when her very straight living Mormon mother was diagnosed with cancer they managed to persuade her to smoke some pot for the first time to help the pain – smuggled through the post in a jar of peanut butter. The song centres around the telephone conversation which followed between herself and her mum whilst high. I'm struck by Hoops unique and impressive vocals which range from husky dark and sultry to soaring high notes effortlessly, the layered harmonies only add to the complexity but utter brilliance of the song.  She is a natural wordsmith, her songs poetic in structure and description. With such an interesting, and to be quite honest obscure background, being brought up a Mormon and then becoming the self confessed "black sheep" of the family she has plenty of material to draw upon.
The crowd clearly are won over by her genuine warmth, we all enjoy her telling stories before songs, even the deeply personal aspects and not once does it feel too much, in fact you just want to hear more. I suspect she would be able to make hanging out the washing sound a fun magical tale.
She leaps from musical genre with nearly each song, eclectic it most definitely is but boring it certainly isn't. With the balls of artists such as Bjork she experiments with hints of Reggae beats in 'Food At Your House' followed by obvious Celtic folk and at other times tribal references in her songs.  This could be a complete mish-mash, but because of her total unconsciousness of herself there is no hint of trying too hard and it comes together beautifully.  Stand out songs like 'City Bird' which tells the tale of her time in a LA neighbourhood living alongside people made homeless after the mental institutions where closed is beautifully observed and again shows off her skills as an intelligent songwriter. She can scoop you up and take you on journeys from her heart and into her dreams with ease and charm.
After two encores it's safe to say Manchester are pleased to see Jesca Hoop return to her adopted city, I leave feeling I've seen a slice of brilliance from this free spirited extremely talented lady and lucky Manchester has a chance to be a part of Jesca's story.