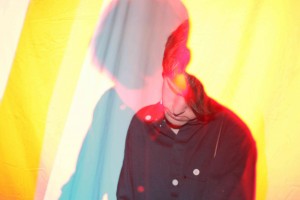 – BAND ON THE WALL, MANCHESTER –
It looks like 2011 is the year that James Blake ate the pies.  I expect  the svelte foppish-haired waif that I've seen peer out of press photos, but the man who takes the stage alongside fellow traveller Rob McAndrews (guitar and sampler), minus Ben Assiter, who often provides drum accompaniment, is an altogether more shorn and fat-necked incarnation of the 22 year old wonder kid.  I'm not saying he's Fat Bastard from Austin Powers or anything, but he definitely looks more like a bloke who could have you in a fight than a fey indie boy.  Blake's physical appearance seems as anamorphic as his music.
The Band on the Wall auditorium isn't at capacity but it is 3pm on a Saturday afternoon (3pm!) at a gig laid on due to high demand- testament to "so hot right now"-ness of Blake.  This is more like a recital than a gig but the delicacy and sophistication of the music makes this feel appropriate – not that the music is overally intellectual or difficult, but it does deserve your full attention.  For the half hour before Blake takes the stage Rich Reason (who not only has a Hitler haircut, but get this, has what looks like a Hitler moustache!) has been exposing the speakers to a lot of sub-bass, leaving a vacuum of pregnant silence.  The hum of the amplifiers is the only sound as Blake sings the opening lines of Lindisfarne 1, his voice fragile and mournful and unaccompanied by any instrumentation. It's brave and beautiful.  He multi-tracks his vocals live, making his voice go up a few octaves for the second verse so it sounds like a he's dueting with a female android version of himself.
This is Blake's second outing at Band on the Wall in a matter of months for clued-up promoters Now Wave, a bunch that have been providing Manchester's music scene with much vibrancy and colour, whose refreshing non-genre specific policy on booking new music hasn't debarred some of the more interesting cross-over acts from the electronic underground.  But it was purveyors of all things drum 'n' bass and dubstep, Hit and Run, who were onto Blake early on and had him DJing in the city shortly after his initial, more purist dubstep releases on Ramadanman's (sorry, Pearson Sound's) label Hessle Audio.  This transition from sub-genre DJ/producer playing at dubstep nights to music press indie-darling almost overnight, coinciding with his cover of Feist's 'Limit To Your Love', seems startling.
Listening to Blake's early releases you can hear something more than the sparse high-hat shuffle and wobbage of stock dubstep.  Like in Burial's music, there's a melancholy, and interplay between sound and silence like in the music of Geiom or Oktober.   Yet Blake's hyperbolic evolution into an entirely more interesting and complex musical animal is still surprising.  But maybe it shouldn't be.  It just takes an immense, classically trained talent like Blake to step into the cavernous void of the genre's sub-bass and clicks and fill the space effortlessly with folly, melancholic, R 'n' B tinged songs.  Blake understands completely the power of silence and sound, allowing notes to hang before punctuating them with big bass and slow two-steppy breaks.  The sound system in Band on the Wall perfectly complements this- when standing in the middle of the floor, where the sound from the speakers converge, you can almost feel your chest rattle as your nose hairs vibrate from the bass.
Many of the songs employ the same refrain repeated, but this adds to the effectiveness.  Blake  sings "I never told her where the fear comes from…" over and over, multi-tracking the vocals, marrying a set of production practices used in dubstep with a folk aesthetic, making it sound like Tim Buckley meets Burial.  It shouldn't work but it does.  In fact it sounds fully formed and completely natural. The system is really tested with penultimate song which ends with a big crescendo of crackling white noise, before another folky electro acoustic number with field recordings and effects concludes an all too short set.  I'm not used to going to gigs at three in the afternoon, and as I exit onto the city centre streets, sober as a judge, it feels like coming out of a matinee at the cinema, and for a few minutes, the world all seems a bit unreal.