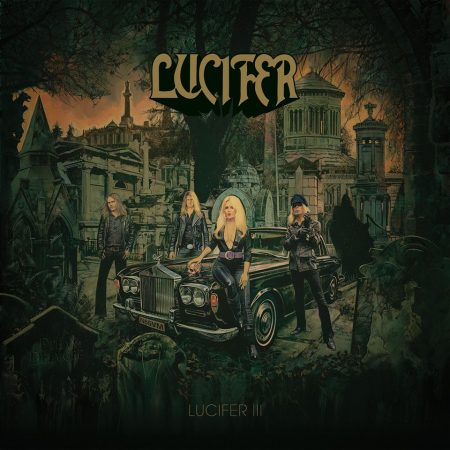 Lucifer III. But I hear you ask before you open your mouth…." Where was Lucifer II or even I?" Well, the brief history of a band is that they really have yet to get off the ground into a fully touring unit (but, they've been to America a fair bit. The bastards). By album three, you should be having some familiarity in the circles of your musical dimension. The quick history is they started in 2014, released their debut 'I' on Rise Above records (Lee Dorran, former of Napalm Death, Cathedral and current band With The Dead, who really need to tour, or new album or just give me stuff, his label) however, stuck with not keeping a full line up hindered a lot of touring plans. Album two 'II' saw the band signing to Century Media, more overseas tours in the states and finally keeping a full line up to record album 'III'. With Johanna Sadonis being the only member on all three albums. But it is her band so…
Right, album three. It's easily my favourite. The first album was rougher, heavier and had an appeal to the doom genre crowd. Album two was rockier, less metal more psych rock. This is both wonderfully melded together. You have the grit of no.1, the rock aspects of no.2 and wonderfully intertwined in their blissfully energetic "yeah it's the bloody 70's" and comes across like the album that will finally see the band kick open some full touring regimes. The fact the line up has remained is no surprise to the vast improvement from album 'II', and its still a good album. But this sounds cemented. Comfortable in their skin as the Lucifer band. The classic rock attempts of modern bands became been a path of highs and lows. This is very much a challenging climb.
'Midnight Phantom', 'Pacific Blues' and 'Coffin Fever' are sure fire for the floor, to be consumed by the masses that will no doubt ascend upon their merch table, banging for more. Sadonis' vocals are commanding. They are certainly centre stage. A stage this band needs with this release. It's a fantastic rocking listen. The band are melded as a force behind Sadonis as a force on her own.
They say you can't go back. But when Lucifer release an album this good. It's all forward and hail the future.
Lucifer: III  – Out Now (Century Media)