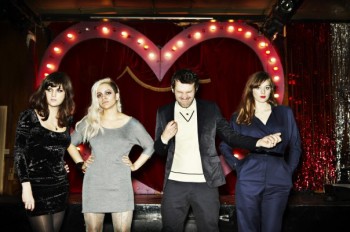 – MOHO LIVE, MANCHESTER –
When I saw that tonight's gig is to be a 16+ affair and that the doors were to open at 6.30pm, I had the usual momentary thought of "am I gonna be the oldest person in the room?" Fortunately this never lingers long enough for me to actually care. On entering the subterranean venue that's half hidden down the bottom end of Tib Street, I find my initial notion is far from correct.
It's been a while since NYPC have been in Manchester and the last time I saw them was at the Warehouse Project's first year at Store Street underneath Piccadilly train station, which has a considerably higher capacity than tonight's venue. But if you leave it three years between your first and second album, this is only to be expected. Even so, by the time they arrive on stage the place is almost full.
To open tonight's proceedings they head straight into 'Chaos' which is one of the new tracks from the latest album 'The Optimist'. The crowd are extremely static, but I'm not sure whether this is down to early door time or whether they are not too keen on the newer material. If in fact it is the latter, then I'm quite shocked as it's just as good as their original work.
When we get to the 'Dolls' which has a definite salsa feel, most people have still yet to find their dancing feet and to make it even worse I have yet again found myself stood next to the group of people that seem intent on holding a full blown conversation, rather than watching the band they have paid good money to see (tossers).
As the night, well evening, rolls on and we are given a mixed bag from both albums it is clear that the majority of the audience are hear to hear a couple of the old favourites, as when the beginning of 'Ice Cream' emanates from the PA, a sudden injection of life fills the room. Unfortunately this quick hit seems to wear off all too soon during the last two songs, but thankfully the encore of 'The Get Go' takes them out with a bang.
Tonight has proved that when releasing your second album without the backing of a label, it can be a struggle. I just hope they continue to put in the effort, as their new stuff is just as good as when they first burst onto the scene.