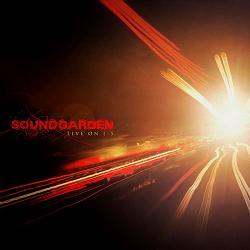 In April 1995, I spent two weeks in Seville. I'd never watched MTV before, and I was glued. It was Grunge Weekend and 'Black Hole Sun' was on every five minutes. Out shopping, I spotted a Nirvana bootleg and bought it, despite already owning all of Nirvana's official albums. My Spanish friend asked me "Why?", considering I had all the songs anyway. He was right; I listened to it about 10 times and eventually gave it away – because there was nothing on there that was any better than the album versions.
And that's the problem with a live album: the playing is often sloppy, the singer can rarely pull off the equal of their studio vocal performances, and most importantly, the recording can never convey what it's like to be there, no matter how loud you turn it up (especially if, like my advance copy, the record has breaks between tracks, interrupting the crowd noise and segues between songs).
Soundgarden's first live album 'Live on I-5′ has five songs each from 'Badmotorfinger' and 'Superunknown' and four from 'Down on the Upside' (three of my favourite records). The other three songs, which I hadn't heard before, are: 'Nothing to Say' from 1987 début EP 'Screaming Life', and covers of The Beatles 'Helter Skelter' and The Stooges 'Search and Destroy'. Chris Cornell's solo version of 'Black Hole Sun' is an interesting choice – but if, like me, you watched MTV Europe in the mid 90′s, then this is one of the most overplayed tunes ever, so a fresh take is not unwelcome.
The vocal performances on 'Live on I-5′ are admirable, not least of all because of the incredible high notes Cornell can hit, but also because he suffered a severe strain of his vocal chords while touring only two years earlier. It's easy to see how. On the whole, this is not the mellow, mature singer of Audioslave, he's angry, raw, powerful and, at times, utterly captivating.
If you already have Soundgarden's albums, and you think this will be like going to a gig, you'll be disappointed – it's like sitting in your room and listening to a rehearsal recording with crowd noise on it, but don't get me wrong, these are some great songs, played by a band at their peak. There are some barnstorming  performances ('Ty Cobb', 'Jesus Christ Pose', 'Let me Drown' and especially 'Rusty Cage'), and this album is one of the best new releases that I've listened to recently; there's just not much on offer that isn't on the studio recordings – and in my opinion, some of the best songs didn't make the cut.
Release Date – 22/03/2011 (A&M)