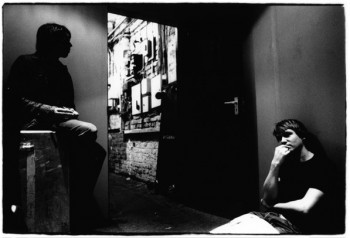 – THE NIGHT & DAY CAFE, MANCHESTER –
Nine Black Alps have lined up two support acts to accompany them for their gig at Night and Day, Former Bullies and The Witches, both of whom have a similar grungey/rocky style to their own.
Former Bullies are first up, and they don't do a lot wrong. Their set is, to excuse the cliché, tight or some might say uptight, as they never really relax into a rhythm and the odd moments when they do are their best. Unfortunately, nobody is keeping score on their technical ability, in fact, not many people seem to be paying attention at all. One guy even takes it upon himself to do a spot of tidying up and clears an entire table of glasses and bottles.
Next are The Witches, a band Manchester can be proud of, and a welcome energiser for the crowd. They're a lot less eager to please and operate within their own world, getting on with the job of making music and their songs are multilayered, atmospheric and above all interesting. Towards the end, sweaty and disorientated singer, Gib Lyn, looks out at the crowd and asks "Do you like us?", as though it has only just occurred to him, but there are a few encouraging whoops from the crowd, confirming that The Witches have cast their spell.
By time Nine Black Alps take to the stage there is a definite drift towards the front. Three plainly dressed men take to the stage, which seems a bit of an anti-climax after the hectic messiness of The Witches, but their set begins at a similar pace and their style is upbeat with a pop/rock edge to it. Their songs are punchy and direct and have a lot less angst in the lyrics than a typical grunge song, with frontman Sam Forrest himself seeming in a singularly good mood, taking a short break to tell the crowd "God, I feel good" before continuing his journey.
Former single, 'Unsatisfied', has been used in an episode of One Tree Hill, and they have spent a lot of time touring in America including playing at SXSW. Given their style it is clear to see why they would go down well in the States, but, they seem to be recycling a tried and tested formula. One main criticism of the Manchester music scene is its failure to shake off the past and produce something new, and while Nine Black Alps are not reminiscent of any 'Madchester' sound, they're still essentially replicating what has gone before.
They would benefit from fusing their musical influences and producing something new. Forget post-grunge, what about nu-grunge?