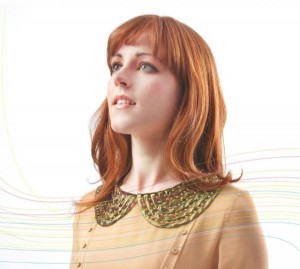 – CROSS STREET CHAPEL, MANCHESTER –
Here's the great thing about getting to a gig in time to see the support bands. Nine times out of ten, it's some bunch of spotty ne'er-do-wells churning out their take on whatever the vogue is this week. No matter, you've only lost thirty minutes of your life to their skinny trousered, snotty nosed racket. But every now and again, you stumble happily and accidentally across a real gem. And so it is tonight. With the simple combination of harp, upright bass and a couple of tom-tom drums, Rachael and the Red Socks have no right to make the rich, at times astonishingly contemporary noise they make. The obvious comparison to make would be to Joanna Newsom, but it's a lazy one; R&TRS are a warmer, less ethereal proposition altogether (that's a good thing). Rachael Gladwin's no less dexterous a harpist though, creating complicated tapestries of sound that leave you agape at the fact that there are only 4 people on the stage. Debut album 'Melodies and Time' was released in January; it's got to be worth investigating.
Loved Ones. I'm struggling a bit. Like, I know that I like the parts that go to make up the whole – some lovely falsetto vocals, layered loops and beats, lush strings n' stuff. It's just that, I think there's a tacit thing going on in the ethos tonight a folky, poppy thing and I'm just not sure that Loved Ones' at times overwrought epics fit the mould. That said, the vocals occasionally put me in mind of Anthony Heggarty (and Geneva's Andrew Montgomery – ten points if you remember them) and there's some genuine invention going on. At the bottom of it all though, there's a nagging feeling that the songs aren't quite fully realised yet. But the potential is definitely there. Definitely.
"Do you like the church in the round thing?" Hannah Peel checks her congregation's satisfaction with the choice of venue. It's certainly not the musty pews and altar church experience. But the Chapel's circular clean lines and intimate feel certainly make it a spot-on gig venue, if an unlikely one. It feels like there's a snowball of momentum building for Hannah Peel, with blanket critical adoration for her 'Broken Wave' album, some well chosen high(ish) profile radio slots, and, as I write, her music box driven cover of 'Tainted Love' is tinkling away on the background of a TV advert. 
She cuts an endearingly quirky figure, whether awkwardly clutching her violin during the verses of 'Don't Kiss the Broken One', furiously turning the handle of her music box (her USP, should artists like Hannah Peel need one) or addressing the audience with mock bemusement ("This is, like, the quietest gig ever."). With a setlist that is essentially pretty much everything off 'Broken Wave' plus her music box driven cover of The Cocteau Twins' 'Sugar Hiccup', Hannah Peel ricochets from genre to musical genre with effortless ease. As with the album, all of the musical parts are delivered with maximum economy to great effect, the backing band (including Laura 'Blue Roses' Groves) sensitively providing the backdrop for Hannah's pristinely pure vocals.
She's right about the quietest gig ever thing though. There's quite a space between band and audience which might make a real connection difficult, or maybe it's a reverential hush caused by the venue, but every song is greeted with appreciative applause followed by… well, almost complete silence, much to Hannah Peel's amusement. The amusement is mutual – I can't think of a gig I've been to where smiles so regularly play onto my face. As much as anything else, it's really lovely to watch the little interactions between Hannah and her band, clearly having a ball with no need to be cool and hip. "It's gone really quickly, don't you think?" she enquires before final song 'The Almond Tree', to general agreement. And if it is true that time flies when you're having fun, then tonight is perfect proof.