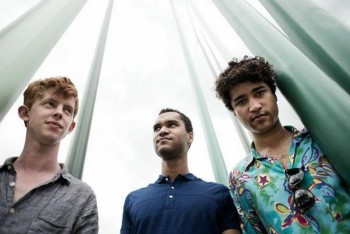 – THE RUBY LOUNGE, MANCHESTER –
There seems to have a lot interest surrounding London based outfit Theme Park since there formation back in 2011. Even before the release of their debut single they were already all over the press and all the underground indie scene kids were also getting far too excited. Since then, that interest and intrigue has been quietly bubbling under as the band have gone on to release a few singles and bag some top support sort slots in the past twelve months or so. Having just released their debut self titled album a few weeks back on awesome indie label Transgressive and currently being on a UK tour to promote it, it seems that now is the time for Theme Park to properly become the UK's favourite new band.
Tonight is a big night for Theme Park as it's the first sold out date of their UK tour and with it being a Friday night it is fair to say that spirits are high in the Ruby Lounge this evening.
With the crowd getting hyped up by a selection of indie dance hits blaring out of the PA, the stage is set for the band to enter. They burst into life with tropical pop groove of early single 'Ghosts'. With a quick hello from ever so polite frontman Miles, they jump into the sun soaked hit that is 'Jamaica', perfectly accompanied by the flashing of some huge spot lights they've brought along with them which helps create the summer like glow of the track. Debut single 'A Mountain We Love' is greeted with a big cheer from the crowd, who are on fine form throughout the set, the room acting as one big dance floor as the crowd excitingly bop about all with big grins across their faces.
Theme Park certainly know their way around a catchy pop song, 'Still Life' sounds slightly like one of Klaxons more pop moments with its wonky little keyboard lead and latest single 'Tonight' is a dance floor filler in the making in all its euphoric disco pop glory.  Album opener 'Big Dream' chills things down a little bit with its laid back soulful attitude, while album centre piece, 'Saccades' is very much a highlight, building from the bands distinctive group vocals and reverb heavy guitars to a pure funk out outro with the slickest bass line you'll hear in a long while.
Miles thanks the crowd for coming out and making the show a sell out and announces their final track, 'Two Hours'; a masterclass in making a perfect 80's pop tune and ensues a big crowd sing-a-long encapsulating the ecstatic atmosphere that has ran throughout the night. In short, a proper dance the night away set, brimming with future groove pop hits from a band that should and will soundtrack your summer!