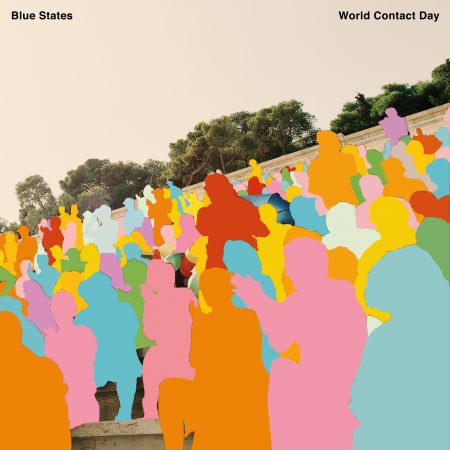 Music has had a long relationship with space, dating back to Gustav Holst's 'The Planets' through pop music's early dabbling, such as The Tornados' 'Telstar' and David Bowie's 'Space Oddity', all the way through to Hannah Peel's 'Mary Casio: Journey to Cassiopeia'. Because space conjures ideas of mystery, connection, imagination, infinity and the intangible, it makes for a natural bedfellow with music. 
'World Contact Day' refers to 15th March, the day on which the International Flying Saucer Bureau tries to contact alien lifeforms. It also pays homage to a lyric from The Carpenters' 'Calling Occupants of Interplanetary Crafts' which Andy Dragazis, who records as Blue States, cites as probably the greatest song ever recorded. Dragazis also felt as if he was trying to contact alien lifeforms in some of the video calls with collaborators on the album which contains ten tracks including six with guest singers. It is worth emphasising the word singers rather than just vocalists as they are all pure, dreamy singing voices. 
The journey begins with 'Plain Sight', featuring the gorgeous indie folk voice of Memphis Industries label-mate, Rachael Dadd, whose 'Flux' was one of the albums of 2019. The song, about escape, has a baroque pop air and a gravity-defying lightness. Instrumental, 'Trust In Wires' has a woozy sound, like a slightly off-centre vinyl pressing, with trumpets greeting the new day.
'Tides Confusion', a song about how grief comes in waves like tides, begins with pulsing electronics, before Dadd joins the fray for her second collaboration, the song also containing echoes of 1960s futuristic TV theme tunes
Giampaolo and Federica of Malihini lend their harmonies to 'Warning Signs', a song about looking after yourself, which is one of the most swoon-worthy illustrations of how while the album builds an atmosphere, it is awash with melodies. Another instrumental, 'Tiers' conjures floating through the atmosphere before drifting into 'Serial Recall', a sublime blend of horns, synths and voices.
'The Sun Rose Twice' starts with classical violins, martial drums joining, followed by horns and electronics, to create by far the album's most confrontational sounding piece, the only one that intimates a war of the worlds but sounds triumphant as it reaches its conclusion.
'Alarms', with vocals from Allison-May Brice of Lake Ruth and The Eighteenth Day of May is exquisite electronic pop. 'Resting Heart has delightful changes of tempos and teasing intimations of endings, signed off with horn flourishes which throughout 'World Contact Day' create a swelling sense of well-being.
Saving the best to last, closer, 'Science or Fiction', about paleoanthropological fraudster Charles Dawson and the Piltdown Man hoax, also includes a vocal from Brice and manages to sound like Broadcast accompanied by a mariachi band which is a very fine thing indeed.

'World Contact Day' feels in the best sense like an early-morning record, the best time for a journey, whether physical or imaginative and is an expansive joy whatever planet you are on.
Blue States: World Contact Day – Out 18th March 2022 (Memphis Industries)