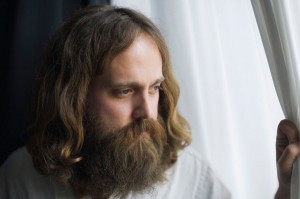 – ACADEMY 2, MANCHESTER –
Iron & Wine are now coming to the end of their UK tour. They have been promoting their new album 'Kiss Each Other Clean' from which their new single 'Walking Far From Home' is taken. Lyrically, this single is slightly weaker than other songs on the album, but the music behind it makes it hard not to listen to.  Since the previous album 'The Sheppard's Dog', their style has developed and morphed to include more synths, which sometimes adds heavily to the dynamics and at other times sounds out-of-place; occasionally they throw in a sound that appears like It's 1988 and someone's just got a new keyboard for Christmas.
Manoeuvring my way through the 'y'er-in-meh-way' crowd at Academy 2, I remember how intimate the venue feels contrary to its size.  It's Iron & Wine's first tour in the UK for donkey's years and I've been eagerly waiting for this day to arrive.  Unfortunately, waiting with baited breath can build you up for disappointment and the way tonight starts it looks as if I am heading for it.
Relaxed and slow, they open with 'Boy with a Coin'; one of their classics, which they manage to play without the same energy and conviction that I'm used to hearing. Music develops and changes every time it is performed and they certainly succeeded in this sense in playing a gig that felt as if it were unique, but at times it also felt like the songs had been over played.
The band has already attained something of legendary status in the US yet the man behind the beast, Samuel Bean seems sincere and humble when he strolls on stage. Although there is a level of disinterest when addressing the crowd, but the man isn't here to talk, though he does keep talking about spring break (It's where they snap the season in America). After an hour the tempo and their stage presence finally increases, the crowd relax and it is now much easier to enjoy.
I'd be keen to see them again on stage at a festival, but not in the city.