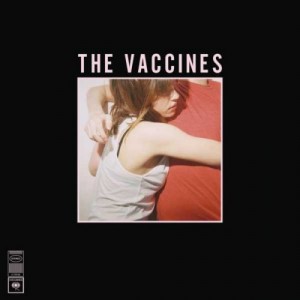 The title of The Vaccines' debut album is, perhaps, a response to the masses of hype they've been the subject to since releasing their début single 'Wreckin' Bar (Ra Ra Ra)' last November.  Most of this is due, perhaps, to the online buzz that they've created, and their tendency to keep their cards very close to their chests.
Then again, their contacts list is pretty hefty too. Front man Justin Young has already had some success with folk-indie project, Jay Jay Pistolet, sharing stages with friends, Laura Marling, & former flatmate Marcus Mumford, and guitarist Freddie Cowan has had a bit of work experience playing on stage with his brother's band, The Horrors.  So, what can we/do we expect?
By now, we've heard plenty by way of Ramones comparisons – though this is no doubt down to the distinct Ramones flavour of the aforementioned single, which trails off somewhat on the following tracks.  It's true that, like the said New Yorkers, there's some of that 50s/60s west coast, girl group feel that's been doing the rounds with their contemporaries such as Dum Dum Girls and Best Coast, but it's a lazy comparison.
The album kicks off with 'Wreckin' Bar', which on first listen seems a bit of a risk, because, if you were expecting the whole album to be like that, you'd be surprised, but hopefully not too let down. The echoing shoegazer sounds buried in the track take main stage on 'If You Wanna', where they adopt a sound and tone that's a bit more Jesus and Mary Chain. But then, JMC were undoubtedly feeding off the same influences.
The second single, the Strokes-like 'Post Break-Up Sex', like the first, is a great indie-pop tune, but at times it feels like the album as a whole drags its feet a little.  However, some of those seemingly lesser tracks such as 'Blow It Up' are stealthy swine; I found myself singing along to that after only a couple of listens – the fact that a lot of the tunes are growers is probably reassuring.
'Family Friend' hits just the right tone for an album-ender, starting low and building up to a crescendo of screeching Psychocandy guitars that sound like a train coming to a halt. There's also a really good secret track tagged onto the end that hints at their versatility. It's almost surprising it wasn't deposited in the album proper, but it was probably a stylistic choice being a stripped down piano-and-vocals tune.
You can't help feeling that The Vaccines have still to reach their peak, but then they have only been together a year or so. Perhaps the hype surrounding them says more about our need to have a band to laud than it does about their music. But it's fair to say that my previous (and perhaps unfair) expectations that they'd be some kind of Ramones rip-off have been well and truly subverted.
Release Date 14/03/2011 (Columbia)