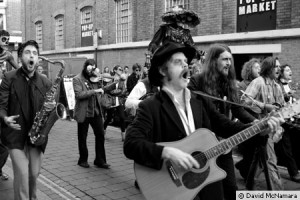 – BAND ON THE WALL, MANCHESTER –
Debt Records is a creative co-operative that 'swaps favours, trades skills and shares round the good fortune of our individual members.'  By birthright, the in-effect music label is the love child of three members of 'Louis Barabas & the Bedlam Six ' (Who were also one of the awesome headline acts.) It is built by musicians, for musicians, with a recognition of the current tropics that surround the music industry; 'music piracy', falling record sales the necessity to gig and that existence of the fats cats whose fingers are too fat to pick up an instrument. All proceeds earned are returned back to the musicians.
This night was like a dip into an intensely humid vaudeville showcase: dripping with raw talent, theatrics, an existential 'almost' mirror gazing (from Alabaster Deplume) and an uninvited power-cut.  The succession of acts proved to be well thought-out. First out of the treasure chest were Richard Barry & the Chaps, with comical wondering lyrics and a real festival country/folk feel; a good mood setter.  Next up were Red Tides, reminiscent of an early 90's folk-rock band with soft melodies and a strong lead vocalist. Following the next act – Josephine, a friend turned to me and said "Do you have a ring,…No? Maybe she'll accept this drill part.. I am going to ask that girl to marry me."  With her powerful head-turning voice she graced the stage by herself; with a summery bouncing and upbeat acoustic guitar backing she definitely warranted a proposal. Becca & the Broken Biscuits pushed no boundaries, they're a soft electro-folk band, but then again, that's just my cup of tea.
The next acts, what's that expression? Blew. My. Fucking. mind.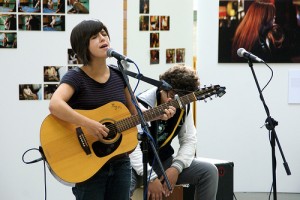 John Fairhurst, performed some type of musical séance with his fingers unbelievably-to-the-ears to one guitar to deliver some hard hitting truly dynamic, finger licking blues, absolutely brilliant. Catching up with him after, he answered, to the question – when did you write those?  "A few of them in the last couple of weeks".  He's either lying, or, he really is, and he really is: that good. Alabaster Deplume: a quintessential eccentric delivering existential poetry in lay-mans terms, he was sometimes comical and other-times raw and honest, his face contorted into people than I have ever seen. Louis Barabas & the Bedlam Six followed, who are about to start their No Religion tour in Austria/Germany, for those of you who are deprived, they are a mix of Tom Waits, insanity, mid-west debauchery and a massive beard, so much energy, but this time not at full swing due to their female vocalist Ali being ill.  At this point in the night I thought about the creaming, by this I mean the quality of the music and about the ethos behind Debt records how 'no executives (are) creaming off a percentage here.' Although the label is just over 1 year young, it is rising in presence with some of Manchester's best.
The penultimate band were Honeyfeet and if they don't make it big, then the music industry, this world and my boxers are all flawed. A rhythm, a blues, some Jazz, a song about a cannibal, some of Manchester's finest musicians, a genuinity both on and off the stage that singer Rioghnach vocalises in singing and her banter make them and their music one of the best non-major label groups I have ever seen, and I've seen them a 'few' times. The headline act – The Caulbearers are an acid-jazz group who create chilled out tunes that make you move, with a light scattering that feel cinematic with flowing and complex melodies their music is well crafted, although their set this night started a little slow it was soon turned around. Debt Records are based in Fuel in Withington and with the talent behind them will only get bigger.