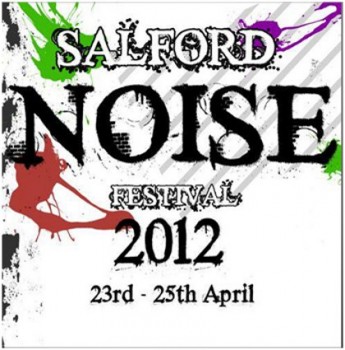 – COME AND FEEL THE SALFORD NOISE –
It's about to get noisy for residents of Salford, as the city launches a brand new music festival.
Salford Noise 2012 will be held over a number of nights at Salford's best venues, The Crescent Pub, The Black Lion and cotton-mill-turned-creative-hub Islington Mill, in a bid to celebrate the area's rich music heritage.
With Salford University boasting famous musical alumni such as Delphic, Everything Everything, and Hurts, plus links with the Smiths, (Johnny Marr is a guest lecturer at the University), it is a recognition of culture that seems long overdue.
Organiser and performer in band Bears? BEARS! Tom Miller, said: "Countless musicians from the University of Salford have gone on to work in the music industry, be that recording artists, session musicians, sound engineers – whether it's cool or not, the fact remains that they are the future and they come from Salford.
"We have the most exciting new up and coming artists for a new up and coming festival in a city that has been sleeping for far too long."
Despite the heavy focus on the University, the event will showcase talent from the surrounding area, as well as Salford's own students and alumni.
Kicking off the event at the Crescent will be Smiths-inspired indie band Seahawk, atmospheric alt-rock Boddickers (Elbow's Guy Garvey is a fan!), headlined by the emotive and infectious Missed You At The Show.
This will be followed by Tuesday's fare of 5 piece pop-punk band Scarlet Ocean, unique sounding post math-rock band Bears?BEARS!, eclectic industrial rock Marley's Chains and jazz  fusion band Kerfuffle who will round off the night. There will also be a separate acoustic stage downstairs, headlined by the Universal session guitarist Bjorn Paul.
The festival finale will be held at the ever-quirky Islington Mill. Starting at 7pm, it features acts such as intelligent dance music heads Treehouse, Dublin songstress Shauna Mackin, pyschadelic 7-piece The Universal, and The Feud – who previously toured with Juliette Lewis.
Co-organiser and musician Sam Jones said, "It's going to be a mental three days of music and mayhem. We've tried to make sure most genres are covered so there should be something for everyone.
"Kerfuffle in particular were amazing last time I saw them and the Universal should raise the roof of the Islington Mill!"
Salford Noise will take place from the 23rd to the 25th of April, and at just £7 for the entire three days is a snip compared to many other music festivals.
There will also be a Soundcloud page showcasing all of Salford's top acts, so those unable to attend the event can still catch some of the action online.
For more information, visit the festival's Facebook page (LINK: www.facebook.com/salfordnoise) or follow the Twitter feed on @salfordnoise.
FULL LINE UP:
MONDAY 23rd APRIL, THE CRESCENT, DOORS 7PM
MISSED YOU AT THE SHOW
BODDICKERS
SEAHAWK
DOLDRUMS
 TUESDAY 24th APRIL, BLACK LION PUB, DOORS 7PM
KERFUFFLE
MARLEY'S CHAINS
BEARS?BEARS!
SCARLET OCEAN
BJORN PAUL (acoustic tent) 
WEDNESDAY 25th APRIL, ISLINGTON MILL, 7PM
THE FEUD
THE UNIVERSAL
SHAUNA MACKIN
TREEHOUSE