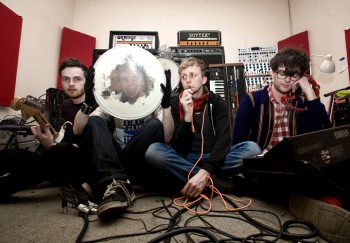 – THE DEAF INSTITUTE, MANCHESTER –
Everytime the Manchester music scene seems to be escaping the shackles of its past, a new club or indie night seems to raise it's head offering the same kind of generic, pedestrian music and putting on bland 'landfill indie' acts. Thank goodness then for nights like Now Wave, who, with eyes firmly on the future are working hard to prove that the city has more to offer than the stale and over familiar sounds of it's past.
Leeds-based duo, Worriedaboutsatan, take to the stage armed with a guitar and various boxes of electronic trickery which they use to create euphoric soundscapes with a dancefloor feel.
Gavin Miller often uses a violin bow to produce haunting walls of sound with his guitar, while Tom Ragsdale creates the beats and adds disjointed vocal snippets and warm keyboard chimes. The result is an enjoyable blend of post-rock and dance which sadly fails to fully engage the crowd.
Errors, on the other hand, suffer from no such setbacks. Their technological arsenal is substantially larger, and virtually every inch of the stage seems to be covered with keyboards, effects pedals and computer equipment.
They kick off with 'Bridge Or Cloud?', which begins with lush keyboard swirls and delicate guitar work, and gently builds until the drums kick in and the whole venue erupts. From here they go straight into 'Supertribe', the most upbeat and danceable track from current album, 'Come Down With Me', and from this point on they are relentless in keeping the crowd moving.
The whole set is a master classs in instrumental music, and covers electro, krautrock and math rock all of which are executed with sublime skill and precision. Drummer, James Hamilton is powerful and intense, managing to keep wonderful dancey rhythms throughout, while also demonstrating his technical skill throughout the more complex numbers.
The set concludes with 'Mr. Milk', the standout track from their first EP, and it's live incarnation is staggering. The guitar intro is drawn out and distorted through loops before the whole band drop in together, with its chiming guitar and energetic beat sending the crowd into a frenzy once more. During the song, members of the audience at the front are straining to try and touch various band members in appreciation. Errors may look like slightly bemused and reluctant stars, but they are thoroughly deserving.