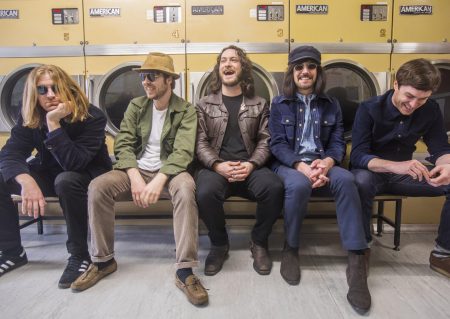 I can clearly remember where I was when I first heard The Coral, at home tuned into the radio in 2002, the magnificent 'Skeleton Key' blasted out with all its frantic rhythms and psychedelic induced melodies, and so began my musical love affair with the scouse musical magicians. They created the kind of melodies and rhythms that most wouldn't come up with in a million years, yet they were still only teenagers when they wrote that and the rest of their debut album! Fast forward twenty years and we're here to celebrate it, with the album being played in full.
First up though were Midlands duo Cut Glass Kings whose blues tinged melodies were so powerful it's hard to believe there's only two of them. Signed to James Skelly's Skeleton Key label, the guitar riffs and drums are matched with Americana style harmonies, to create a mesmerising psych heavy rock sound.
When The Coral take to the stage and launch into the opening bars of 'Spanish Main', the first track of the debut album, the crowd sing along with every word. Each song from the album is greeted with arms in the air and the Albert Hall masses joining in. 'Dreaming Of You' sounds as anthemic as ever and we're treated to an extended psychedelic-jam version of 'Goodbye'. Frontman James Skelly's vocals sound as powerfully melodic as always, plus he conjures a feast of weird and wonderful riffs on his guitar. Once the whole album has been played live, after a short break we get a selection of their other classic tunes including 'Bill McCai' 'Jacqueline', and relatively new ones 'Lover Undiscovered' and 'Faceless Angels' from their most recent album, the brilliant 'Coral Island'. The crowd sing along not only to every word, but also to the main guitar riff of 'In The Morning', proof if any were needed that the band's ability to write simply great songs didn't stop after the first album. 
There's definitely something in the Liverpudlian air as so many great bands from the city have a wonderfully intense melodic edge to their music. It's as if it's on the school syllabus –  GCSE Byrds, GCSE Love and GCSE Beefheart. The Coral took those songwriting elements from their predecessors, moulded them into their own world, and have been releasing great albums, and doing great gigs for over twenty years. Tonight's set was a timely reminder of just how uniquely brilliant this band still are.