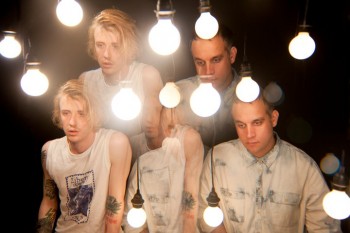 – THE DEAF INSTITUTE, MANCHESTER –
2009 was a good year for California based act, Girls. The tragic story of main man Christopher Owens' upbringing in a cult, and his subsequent change of fortune when he was taken under the wing of a rich benefactor and moved to San Francisco where he formed Girls in a reported haze of drugs and partying, instantly caught the attention of the music press.
However, having an interesting back story isn't enough to be successful, and it was the quality of their debut record simply entitled 'Album' which beautifully conveyed Owens fragile and damaged emotions that ensured they featured in virtually every end of year poll and kept them being written about.
So 2010 sees the band poised to move onto even bigger and better things, reflected by tonight's attendance – The Deaf Institute is packed to the rafters.
Owens certainly looks the part of indie icon as he emerges on stage dressed in a thrift store jumper, red jeans and Doc Martins. The question is can he deliver in terms of music and charisma? The early signs are promising. First song, 'Laura', is perfectly delivered and captures Owens at his most innocent and childlike as he pleads "I don't wanna fight anymore", and offers reassurances of being "friends forever, friends until the end of it all".
He dons a truckers cap for second song 'Ghostmouth', and everything seems to be progressing well, but as the set goes on the songs begin to merge into one another without anything exciting or memorable enough happening to mark them out from the pack, and the band seem to be hampered both by an inability to change the pace of proceedings and to convey the vulnerability which is so apparent on record.
'Lust For Life' finally injects a welcome change of tempo, and sparks the crowd into life, but it's perhaps Owens' interaction with the audience before the song which is most telling. He makes reference to the fact that he had drank too much whiskey the last time they played Manchester. Tonight he claims he is just drinking water. Whether this is true is anyone's guess, but in the past much has been made of Girls shambolic live performance, which would seem to fit both with their image and music.
For too many stretches tonight's show is competent but unremarkable. Sometimes a little bit of chaos goes a long way.