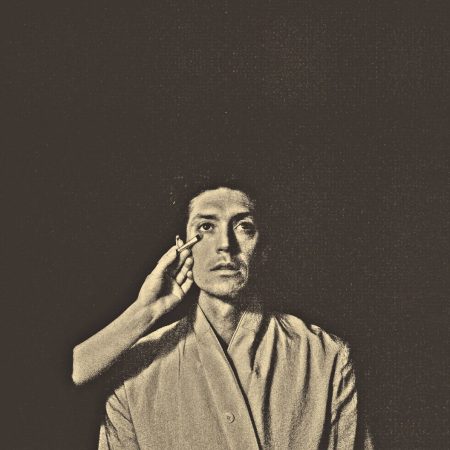 It takes bravado to open an album with a track that feels like a close sibling to an all-time classic symphonic pop song, 'I Saw The Light'. With its piano line echoing Todd Rundgren's melody, indulging in jigs with dual saxes, a brilliant dip as most the instrumentation temporarily drops out leaving a solitary piano and H Hawkline (Huw Evans) singing "and I miss you", the opening title-track is a hard act to follow. However, with his third album, 'Milk For Flowers', Evans reveals a fresh confidence, unveiling a record jam-packed with instantly appealing and emotionally engaging tunes, ten ready-made singles.
His previous records have been seen as Dadaist art objects with meaning obfuscated by the absurd but producer Cate Le Bon has coaxed a rich emotional tapestry for this album. Evans is joined by a crack team of collaborators, including Paul Jones of minimalist instrumental duo Group Listening on piano, Stephen Black (Sweet Baboo and Group Listening) and Euan Hinshelwood (Younghusband) on saxophones, Harry Bohay (Aldous Harding) providing pedal steel, Tim Presley (White Fence, Drinks) on guitar and Davey Newington (Boy Azooga) drums.
Second track, 'Plastic Man', sees further serendipitous dipping into the classic songbook, Jones' piano recalling Madness at the point where Mike Barson's swirling melodies had taken prominence while Evans, sounding diffident reveals "I can't stand the tension". The record does flit between these more emotional statements and abstract imagery so 'Suppression Street' with it hints of Gorkys style gentle psychedelia has him "smiling like a crowded elevator" before being carried away by yearning, dreamy and elegant sax. Meanwhile, 'Denver', starts with a minimal metronome that opens like a summer flower in its chorus celebrating "a love that never becomes too much", a sign of extra vulnerability. The gorgeous, fragile ballad, 'Like You Do' with Jones' piano as the star of a kaleidoscopic firmament has Evans crooning "I can't take it like you do", a moment to close the eyes and swoon.
By Evans' own admission, on previous records his tendency to obscure and avoid feeling was reflected in a vocal style that aimed to be flat and emotionless. On 'Milk For Flowers', he has unveiled a voice with impressive range. On 'Mostly', he hits a sweet falsetto ("I wanna die happy") accompanied by a languorous piano line, Presley's guitar having a rare moment of prominence as he channels Steve Cropper and the horns give a feel of laidback Atlantic soul. During 'It's a Living', his voice recalls his mega-talented compatriot Meilyr Jones while producing some startling imagery and observations ("I love to hear the sound of breaking glass as I run away… already rearranged the house/what else can I do/ old women, young children/ can teach you everything you know about living" in conjunction with punchy drums and sax tootling along merrily in accompaniment.
'Athens at Night' with its icy synth line and electronic drums shares the 1980s vein that Le Bon explored so profitably on her recent 'Pompeii' album. In contrast, Harry Bohay's pedal steel gives 'I Need Him' a country and Wales tinge while the piano-led melody has echoes of top-notch Nilsson. The closing 'Empty Room' also utilises pedal steel alongside Jones's spine-tingling piano while Black and Hinshelwood's saxes wrap themselves snugly around the melody, a track that reflects the notion that every note is be savoured.
Having first heard a preview of the album over the 2022 festive season, it was immediately apparent that 2023 would have to be an extraordinary year for 'Milk For Flowers' to be excluded from a prominent position in its Best of the Year list.
 H Hawkline: Milk For Flowers – Out 10th March 2023 (Heavenly)