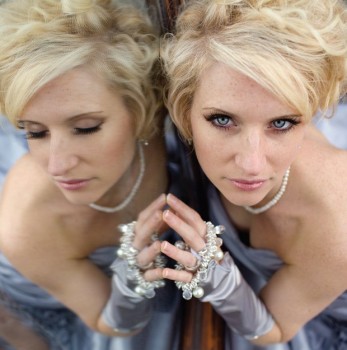 – BAND ON THE WALL, MANCHESTER –
Arriving into the bar something of an official event appears to be underway. Charity stands, flyers and poster art for sale isn't the usual greeting at Band on the Wall's entrance. The crowd also breakaway from the regulars. Noticeably older with more than a strong hint towards the kind of folk who like a herbal tea. As we mingle and check out the stands we're being warmed up to a gig with a twist. Hannah Atkins might not be a familiar name on the Manchester music scene. Yet. Her show centres around her social advocacy work and the people she's met along the way that inspire her songwriting. You might be forgiven for thinking she's a newcomer, but tonight's launch for 'Beyond Your Skin' is her third self released album.
The thing that instantly marks Hannah out is her social justice work. You could be tricked into thinking tonight's charity presence is about a political stance. Hannah herself doesn't appear to be affiliated with a singular campaign or protest statement. This becomes clearer when we hear directly from her on what inspired the songs. I'm jumping ahead… before all of that is the support from Shane Beales. The room is very quiet. It's not really tenterhooks silence, more a polite, drink sipping, waiting for something to happen vibe. It's a bit frustrating really. People should be on the edge of their seats and a bit more vocal for the strong, stripped back voice that emerges on stage. Shane cuts through the reservedness by really letting go. Just him and his guitar he shows sure signs of accomplished song writing, submerging us in his opener, 'Battleship.' He's bluesy, raw and likable with a relaxed stage presence.
Shane set himself the prolific task of writing and recording a new song every week for a year. 'Project 52' gives birth to the wonderfully anthemic 'A New Year.' Have a listen and you'll want to start your January with this rouser. His set closes on a high.
Hannah's arrival on stage is warmly greeted, confirming loyal support already. Dressed up in a black feathered frock, killer heels and a blonde chignon she refreshingly shakes off any political, protest singer (un)styled stereotypes. Seven months pregnant she takes an elegant wobble to a grand piano, and is flanked by drums, samplers and a string ensemble. It's impressive stuff from the start, with 'Sunrise' as our introduction. It's written from a clearly experienced place and Hannah's own narrative between songs further bolsters this. Hannah's songwriting is directly inspired by people's personal stories than broader political commentary. After the first few tracks Graham is welcomed on telling an unsentimental account of getting out of homelessness and then getting help from local charity The Mustard Tree. There's further stories between songs and we could honestly spend the remaining time discussing these alone. Essentially what unravels is Hannah's commitment to helping people and writing music that put the issues firmly out there.
Hannah's voice is distinctively soft, breathy and powerful. Her musical talent is evident but what is of note is her handy knack for garnering support and people around her to create something greater than the sum of her own skill. The captivating 'Rest,' 'Thank' and 'Dream' are multi-layered electronica, folksey-esque ballads with a recognisable sound that she makes her own. The production values are high and husband / producer Aydee Latty has done a fine job of adding the backdrop to the mixes.
Some of tonight's themes aren't for the faint hearted (human trafficking and exploitation.) Nevertheless Hannah really deserves a younger crowd to access her. We're in a reflective atmosphere but it's certainly not passive. It's obvious that she's no conformer compared to what other 20 something female artists are getting a bee in their bonnet about. Neither is she an angsty protest singer. Her demeanour is warm, funny and feminine with a steely determination to write songs that cut to the heart of the matter. After tonight there's a sense of wanting to bask in the electronica glow and delve a little deeper into some of the stories that Hannah is determined you hear about.