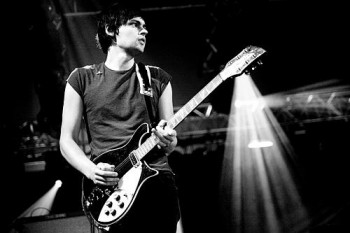 New York is in the grip of a snow storm when I catch up with the Editors' lead guitarist Chris Urbanowicz.
The Nottingham-born musician, 29, is full of apologies as our chat is punctuated by directions to the cab driver.
"I'm sorry, I'm normally much more professional than this," he explains.
Chris, who is unusually polite for a rockstar, explains that he had hoped to be settled back in his apartment in trendy Williamsburg, an arty suburb of Brooklyn.
"I got stranded in the city and couldn't find a taxi driver that would take me over the bridge. It's been snowing for two days solid here. There are cars just stranded in the street. It's crazy."
Chris moved to the Big Apple with his girlfriend in November, 2008. The band had finished touring their second album, An End Has a Start, and Chris admits he needed a change of scenery.
"I have wanted to live in New York since I was a kid, long before I ever came here," he says.
"When I first visited with the band I loved it and now it feels like home. Chavs don't exist here, which is nice, and there is no violence. Where I live I am surrounded by actors, artists and musicians. It's a great place."
If fans feared the worst when Chris and bassist Russell Leach upped sticks and moved to the States, they needn't have worried. The former Birmingham based group followed up An End Has a Start with another number one album, In This Light And On This Evening, which shot to the top of the charts on its release last October.
Singer songwriter Tom Smith says his own new home in London inspired the nine new songs on the album, which has a much more electronic feel than the band's previous work.
The new sound, moving away from the dark guitar anthems the Editors are famous for, owes as much to Chris's work on the synthesizer as it does to producer Flood (Depeche Mode, Erasure, The Killers).
Here, in a new feature called Tracks of Your Years, we see how Chris's musical youth paved the ways for the Editors' latest smash hit.
What is your earliest musical memory? – When I was young my parents used to play a lot of Dire Straits and Genesis. I remember, when I was about 10, really loving Money for Nothing. My parents' era was really the '60s and '70s though. When I was about 14 or 15 I started raiding my dad's record collections and found a load of great Bob Dylan and Rolling Stones records. He had weird tastes though as well, with quite a few prog rock albums. I remember one from a strange Dutch band called Focus.
Will you admit to your first purchase? – I don't want to sound too cool but my first record was a good one, I think. It could have been so different because I liked people like Phil Collins, but the first record I ever bought was The Stone Roses. I was about 10 or 11 and I remember it was really big around my school.
What music inspired you to become a musician? – It was less music and more playing music. One of my dad's friends was a guitar teacher so I started taking lessons with him. I really loved playing the guitar and would practice for ages. Nobody made me, my parents never pushed me into it or anything. It wasn't even that cool. I was playing classical guitar, so none of my mates were that impressed really.
What was the first track to stop you in your tracks? – I was born in 1981, so the big thing when I was a teenager was Britpop. I think the first Oasis album – Definitely Maybe – is what definitely opened my eyes, but I was a bit of a musical mongrel. I looked like one anyway. Before Britpop, I was into Grunge and loved Nirvana and Jane's Addiction – Ritual de lo Habitual was my favourite album of theirs, it was really weird and different. Later I was into Oasis and Blur, I looked like a strange mix between Kurt Cobain, Liam Gallagher and Damon Albarn.
What convinced you to take music seriously? – I was really lucky to grow up during Britpop. It was a huge thing that seemed to take hold really quickly. Suddenly, playing the guitar was cool, and I had about three years on everybody else. I started playing long before it was in vogue. Overnight, everybody wanted to start up a band and because I could play everybody at school wanted me to be in their band. I became popular with all the cool kids and all the hard kids wanted to be my friend. It was quite scary actually.
Did any song or music influence your style? – I remember first listening to a remix of Fools Gold in a about 1995. It really got me thinking, the way they mixed guitar music with electronica. It's something I've been obsessed with ever since. I've always wanted to do something like that.
What music has influenced you since then? – I really like Gang of Four and Dark Star, who I got into towards the end of the 90s early Noughties. They were darker, punkier than anything during the Britpop years. I also started to listen to a lot of Hip-Hop, like Public Enemy.  My favourite Hip-Hop album is Bizarre Night Part II by Pharcyde.
Editors are playing the Manchester Apollo on Tuesday, March 16 2010